Work Futures Daily | A Perfect Clockwork Mechanism
| Genderless In Flight | Algorithmic Bosses | Retail Crisis | Steve Denning Saves Us Some Time | Martin Luther King, Jr | Malka Older | CEO Jitters |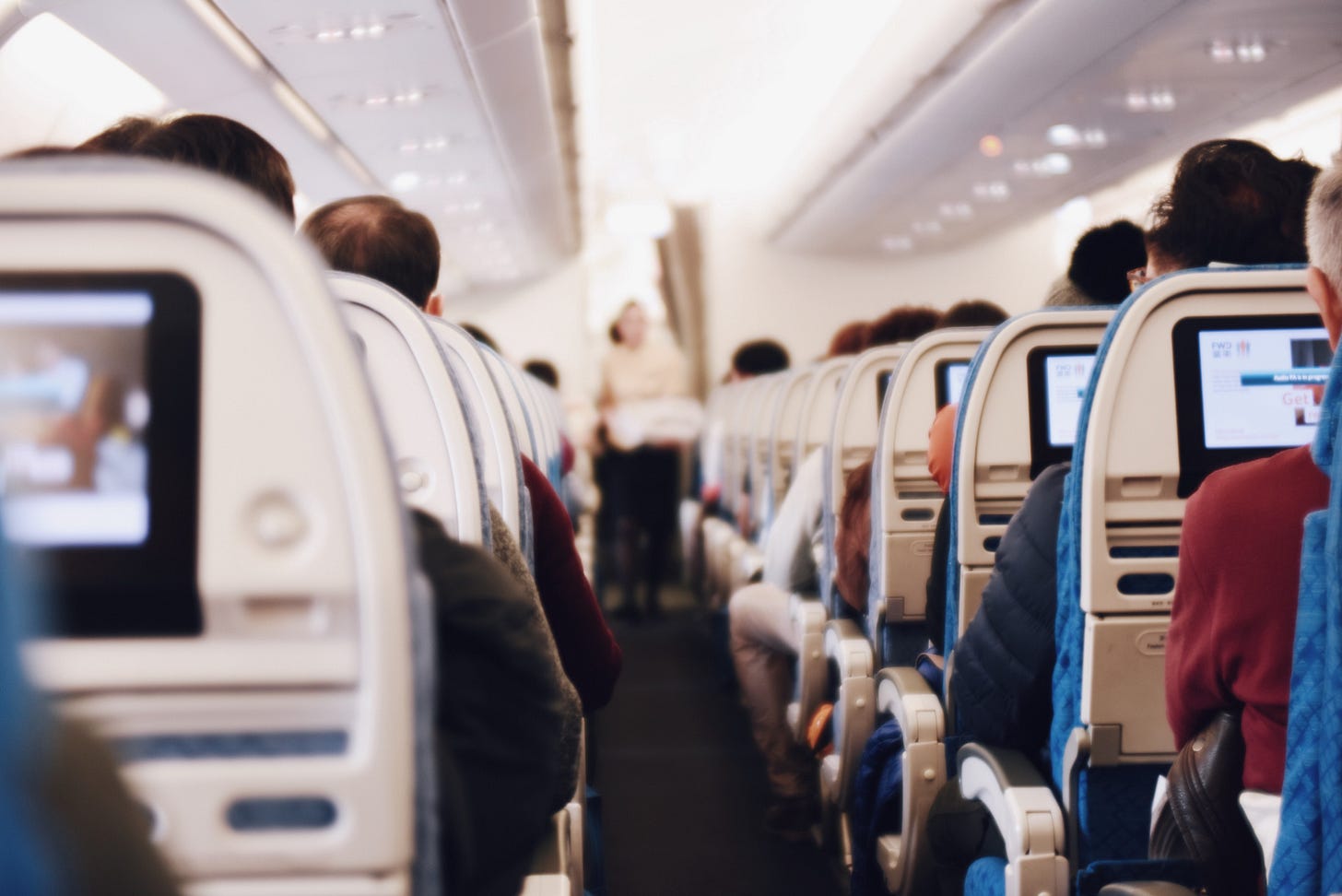 Photo by Suhyeon Choi on Unsplash
Beacon NY | 2019–10–27 | I owe the title to Malka Older's wonderful essay, linked to in the Elsewhere section.
:::
I am going to be experimenting with a different format for Work Futures Daily, which will have shorter stories, and back to more dailies each week. This is the old format, though.
I am making the change because of time constraints from other projects.
Also, Medium has not turned out to be really conducive for newsletter publishing, although good for long-form writing.
[update 2019-10-29: The following italicized text is no longer the case. Ghost 3.0 turns out to not include an email push service without manually setting thigs up with Zapier and Mailchimp.] I am going to try the new Ghost 3.0, which integrates a flexible membership model, with public, member, and subscriber levels of access. With Ghost I will be able to use a dedicated URL, which is not possible at Medium or Substack. Also, members and subscribers will be able to join a community with shared comments. Finally, with Ghost I will be able to add functionality at the HMTL level, which is blocked here on Medium.
If you are a follower on Medium, you might want to sign up for the newsletter, because the Work Futures Daily is going to be posted there, and emailed out on their system. Other changes are coming, too.
I am going to continue the newsletter posting here, on Substack.[/update]
---
Stories
Air Canada staff will no longer greet 'ladies and gentlemen' onboard planes | Daniel Rowe reports on the end of gender at Air Canada:
Flight attendants at Air Canada will no longer greet passengers as "ladies and gentlemen" or "mesdames et messieurs" as they have for years.

Flight staff will no longer use gender terms in boarding announcements as the company will be replacing scripted greetings with neutral words like "everybody" or "tout le monde".

"We will be amending our onboard announcements to modernize them and remove specific references to gender," a media spokesperson for the company said in an email. "We work hard to make sure all employees feel like valued members of the Air Canada family, while ensuring our customers are comfortable and respected when they choose to travel with us."
:::
Machine May Not Take Your Job, but One Could Become Your Boss | Kevin Roose examines algorithmic bosses [emphasis mine]:
For decades, people have fearfully imagined armies of hyper-efficient robots invading offices and factories, gobbling up jobs once done by humans. But in all of the worry about the potential of artificial intelligence to replace rank-and-file workers, we may have overlooked the possibility it will replace the bosses, too.

Cogito prompt
Mr. Sprouls and the other call center workers at his office in Warwick, R.I., still have plenty of human supervisors. But the software on their screens — made by Cogito, an A.I. company in Boston — has become a kind of adjunct manager, always watching them. At the end of every call, Mr. Sprouls's Cogito notifications are tallied and added to a statistics dashboard that his supervisor can view. If he hides the Cogito window by minimizing it, the program notifies his supervisor.

Cogito is one of several A.I. programs used in call centers and other workplaces. The goal, according to Joshua Feast, Cogito's chief executive, is to make workers more effective by giving them real-time feedback.

"There is variability in human performance," Mr. Feast said. "We can infer from the way people are speaking with each other whether things are going well or not."

The goal of automation has always been efficiency, but in this new kind of workplace, A.I. sees humanity itself as the thing to be optimized. Amazon uses complex algorithms to track worker productivity in its fulfillment centers, and can automatically generate the paperwork to fire workers who don't meet their targets, as The Verge uncovered this year. (Amazon has disputed that it fires workers without human input, saying that managers can intervene in the process.) IBM has used Watson, its A.I. platform, during employee reviews to predict future performance and claims it has a 96 percent accuracy rate.
Actually, it is performance of humans that is being optimized.
:::
The crisis in retail work | Erica Pandey summarizes the stats in retail automation:
A collision of forces — automation, e-commerce and stagnating wages — is squeezing retail jobs in the U.S.

Why it matters: With more than 15 million jobs, the retail industry is America's biggest employer. A hit to this sector would reverberate across the economy.

Driving the news: Led by Amazon, several big American retailers are raising their wages to around $15 an hour. But stores are slashing workers' hours, and robots are supplanting people.

"Close to 30% of America's … retail workers worked fewer than 35 hours a week last year, according to the Bureau of Labor Statistics. Nationally, 17% of workers work below 35 hours a week," reports CNN's Nathaniel Meyersohn.

[…]

Some jobs that have existed for decades — like taking inventory or cleaning aisles — are being automated away.

In April, Walmart added nearly 4,000 robots that can mop floors, unload trucks and scan shelves.
Pandey ends with a quote by Forrester's J.P. Gownder:
It's a much slower process to eliminate people than you might think, but in the longer term and at scale, the economics favor automation.
:::
Reinventing the Organization: How Companies Can Deliver Radically Greater Value in Fast-Changing Markets | I saw this book description
Arthur Yeung and Dave Ulrich provide leaders with a much-needed blueprint for reinventing the organization. Based on their in-depth research at leading Chinese, US, and European firms such as Alibaba, Amazon, DiDi, Facebook, Google, Huawei, Supercell, and Tencent, and drawing from their synthesis of the latest organization research and practice, Yeung and Ulrich explain how to build a new kind of organization (a "market-oriented ecosystem") that responds to changing market opportunities with speed and scale. While other books address individual pieces of the puzzle, "Reinventing the Organization" offers a practical, integrated, six-step framework and looks at all the decisions leaders need to make — choosing the right strategies, capabilities, structure, culture, management tools, and leadership — to deliver radically greater value in fast-moving markets.
Beware of six-step plans. Steve Denning spares me the task of reading it, writing [emphasis mine]
The book makes passing references to phenomena such as the "two-pizza teams" and "separable single-threaded teams" at Amazon (pp.85–86, 218) but nowhere is there is a clear explanation of how such self-managing teams function or the fundamental ways in which they differ from 20th Century teams, which were often no more than mini-hierarchies reporting to bosses. Nor is there any explanation of the forcing function that metrics can play in enabling such self-managing teams to be both independent and accountable.

The book describes the different management practices at firms like Amazon without digging into the principles and values that underlie and drive those practices. The practices are described almost as if by tourists visiting a foreign country where people speak in a strange language and embrace unfamiliar customs. But simply observing the different language and behaviors is not enough to enable understanding of why this language and these behaviors have emerged. Getting any benefit from such practices requires a mindset that is at odds with the 20th Century preoccupations with profit maximization and a philosophy of controlism. Such a mindset isn't acquired simply or quickly.
And certainly not by reading what appears to be a superficial book that pokes at things but isn't systematically covering the territory it claims to.
Not added to the reading list.
---
Quote of the Day
An individual has not started living until he can rise above the narrow confines of his individualistic concerns to the broader concerns of all humanity.
| Martin Luther King, Jr
---
Elsewhere
The United States Has Never Truly Been a Democracy | Malka Older makes a strong case for democracy:
It's hardly surprising that we haven't yet perfected our system of government. Societies have been practicing democracy for a very short time relative to human history, and we're still working out the bugs and persuading ourselves to commit to the difficulties. And democracy is still a terrifyingly radical idea — as much as we rhapsodize about government by the people, we are afraid to trust ourselves and much more afraid to trust anyone else.

Moreover, democracy was never supposed to be a perfect clockwork mechanism, functioning on its own while citizens went about their lives, mitigating with preternatural precision every failure of human nature. Democracy is about people actively engaging with the decisions of their government at every level. It requires creating the space and processes for that to happen, providing education to enable an informed citizenry and putting in place safeguards to prevent oppression by the majority — and then continuously improving and adjusting those components as society changes.
:::
C.E.O.s Are Anxious About the Economy. That's Bad for Stocks. | Matt Hillips connects the dots between CEO jitters and the likelihood of a recession:

Confidence among chief executives fell to its lowest level in a decade in the third quarter, according to survey data collected by the Conference Board, a nonprofit research group. The last time the survey came close to showing these levels of gloom, businesses were still shedding about 800,000 jobs a month because of the recession.

Things are nowhere near as bad as they were in 2009. Unemployment is lower than it has been in about 50 years. But the economy's growth has slowed from a 2.9 percent pace in 2018. The economy is expected to grow 2.3 percent this year and could slow to 1.7 percent next year, which would be the slowest rate since 2016, a period that many now view as something of a mini-recession.

In addition, the chief financial officers who control a company's spending are also far less optimistic than they were two years ago, according to a quarterly survey by Duke University.

If companies hold back spending, including stepping in to buy up stocks when the market swoons, stock trading could be bumpier.
Of course, ending the idiotic trade wars with China and Europe might turn things around.
---
If you are receiving this you've probably signed up for the Work Futures Daily newsletter. If not, sign up here. Support our work by becoming a sponsor, here. Or become a follower on Medium, here, and click on the applause button. Drop a few bucks in the hat, here, if you'd like to support our work on a one-time basis.