Work Futures Daily | Dominators and Interrupters
| 1 in 100? | The Gig Economy Falls Back To Earth | Meetings Matter | Intern Economy | Charles Eames | The Recession Is Already Here, It's Just Not Evenly Distributed | Front, Shared Inbox Pioneer |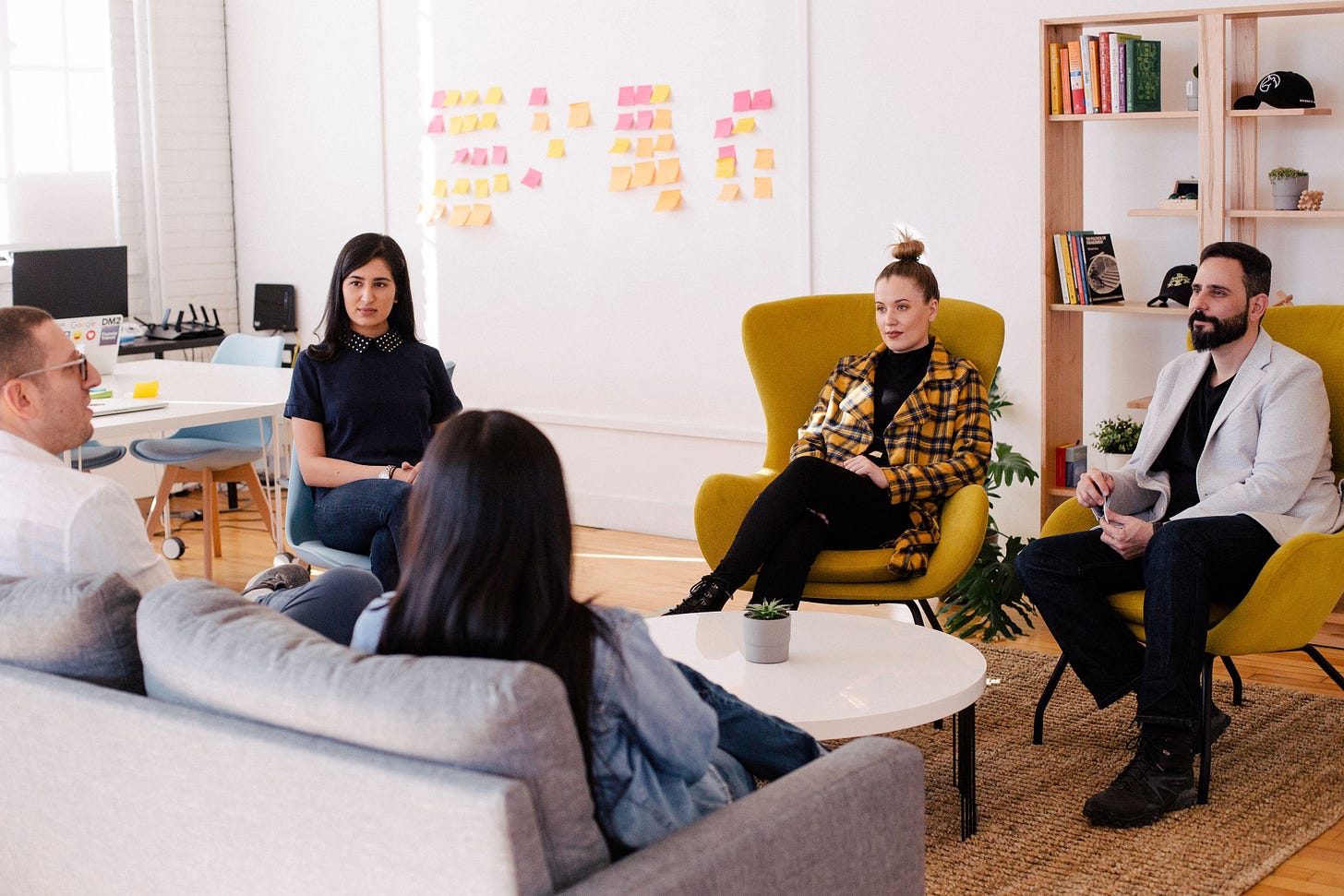 Photo by You X Ventures on Unsplash
Beacon NY | 2019–09–10 | Took out the window air conditioners this past weekend, and today I am wearing wool slippers. Summer's gone, and with a bang.
:::
Via email:
Hi there,

Our curators just read your story, Are Platforms Commons?, that you submitted for review. Based on its quality, they selected it to be recommended to readers interested in Digital Life, Business, Social Media, and Technology across our homepage, app, topic pages, and emails.

[…]

Thanks for writing,

Your friends at Medium
Should be under economics, I think. I guess Medium's editors don't have a topic for platform ecosystems, yet.
---
Stories
Opportunity Missed: Reflecting On The Lack Of Women On Our Most Innovative Leaders List | Randall Lane blames a data-driven method that led to only one woman appearing on Forbes 100 Most Innovative Leaders list. Somehow no one noticed until the night of the event set up to celebrate the list?
Our methodology was flawed, as well — at a minimum when it came to being more expansive with who was eligible to be ranked. While each data point individually made logical sense, as did focusing on data-rich public companies, the entire exercise collapses if the possible ranking pool doesn't correlate at least somewhat with the overall pool of innovative talent. It would be intellectually dishonest to construct a methodology designed to generate a predetermined result, but in this case the forest got lost in the trees.

Forbes' brand stems from inclusive, entrepreneurial capitalism — the idea that free markets, open to all, have proved the best-ever system to produce wealth and happiness and solve societal problems. In this year alone, we've called for a reimagination of capitalism, produced our first-ever Under 30 event focusing on women and launched an editorial channel focused on diversity and inclusion. After this weekend, add a rethink of America's Most Innovative Leaders to that task list.
Well, at least Lane says they are willing to own the series of dumb decisions that led to this, and that they plan to fix it. But it still stinks bad.
:::
In California Labor Bill, Near Passage, Is Blow to Uber and Lyft, Kate Conger and Noam Scheiber offer a comprehensive review of the missteps by Uber and Lyft in California leading up to the vote expected this week in favor of Assembly Bill 5, which will require the ride-hailing companies to treat drivers as employees and not as contractors.
The bill is based on a 2018 CA Supreme Court ruling that determines that a worker must be classified as an employee if they perform a function central to a company's business. So an accountant doing the books can be a contractor, but if your business is providing rides to passengers, the drivers are employees. Period.
The implications go far beyond ride-hailing:
The measure could affect millions of Californians beyond ride-hail drivers, including janitors, nail salon workers and cable-television installers. And it would give momentum to an emerging consensus on the center-left that workers are entitled to a basic level of economic security that many Americans now live without. Several candidates for the Democratic presidential nomination have endorsed the bill, including Bernie Sanders, Elizabeth Warren, Kamala Harris and Pete Buttigieg.

"It's hugely important because California is the birthplace and the center of app-based work, and because California has traditionally been a bellwether for the country around a lot of different progressive policies," said Rebecca Smith, an expert on worker misclassification at the National Employment Law Project, which is part of a coalition seeking to enact a similar law in New York.
The article details how the labor unions rallied against the efforts of the ride-hailing companies to sidestep the bill and create an intermediate sort of classification for drivers, one that would spare the companies from taking on the costly benefits of employment and paying for the cars involved:
Industry officials have estimated that on-demand companies like Uber and the delivery service DoorDash see their costs rise 20 to 30 percent when they rely on employees rather than contractors, and Uber and Lyft have said in statements to prospective investors that being forced to make drivers employees could significantly affect their financial outlook. Since the prospect of a deal started to fade in late July, the stock prices of both Uber and Lyft have declined about 30 percent.
This is a question not only at the heart of ride-hailing, but the foundations of the gig economy, which rests on worker precarity and externalizing its costs.
I recently quoted Bastian Lehman, the CEO of Postmates, in The Starting Point and The Bottom Line for The Gig Economy, where he makes the right noises, concluding with
No competitive advantage should come at the expense of workers.
This should be the abiding insight of what is motivating AB 5, and the eventual reassessment of the economics of gig economy platforms.
[reposted from Falling Back To Earth | Stowe Boyd]
:::
To Build an Inclusive Culture, Start with Inclusive Meetings | Kathryn Heath and Brenda F. Wensil focus on practical ways to counter meeting chaos:
Meetings matter. They are the forum where people come together to discuss ideas, make decisions, and be heard. Meetings are where culture forms, grows, and takes hold.

[…]

Let people know they can speak openly and offer a dissenting opinions without fear of retribution.

[…]

Take advice from a few of our most successful clients:

º Set clear ground rules at the start of the meeting and stick to them. When inclusive meeting conduct is codified, it puts offenders on notice and makes everyone aware of their rights and responsibilities.

º Watch closely for dominators and interrupters. If someone tries to control the dialogue, interject and redirect the conversation back to the broader group.

º If someone is interrupted, step in quickly. You might say, "Wait a minute, I want to hear more of what Janice has to say," or "Back up. I am intrigued with what Luke was telling us. Luke, can you finish your thought?"
Filled with great tactics.
:::
This is how the intern economy is shaping the future of work | Lydia Disman kicks off a new series on Fast Company, The Intern Economy [emphasis mine]:
The National Association of Colleges and Employers (NACE) estimates that there are as many as 300,000 students participating in some form of preemployment apprenticeship in the U.S. each year.

Despite the sheer size of that pool, and the fact that employers are scrambling to find talent as unemployment stays low, there are no guarantees that an internship will turn into a job at that company — or anywhere else. The NACE's report reveals that a little over half (56.1%) of internships convert to full-time jobs.

As employers continue to treat interns like temps, they're more likely to exploit these aspiring professionals. According to NACE's data, about 43% of internships were unpaid in 2018, despite the raft of class-action lawsuits that were leveled at companies such as Condé Nast, Fox Searchlight, Hearst, and others between 2011 and 2013. Although this prompted the U.S. Department of Labor to change its requirements for classifying interns versus employees, the criteria serve mostly to protect the employer.

Organizations in a variety of industries that take on this free labor are often able to get away with making interns do grunt work that goes well beyond fetching lattes — and pushes well beyond the definition of skill-building. As Fast Company's assistant editor Anisa Purbasari Horton reports, interns have had to scrub floors, ensure a sex worker hired by a client remained unseen by the client's wife, and put in 16-hour days without pay. Although author Ross Perlin suggests students simply opt-out of the entire internship race in his book, The Intern Nation, former interns told Purbasari Horton that their experiences — no matter how awful — had value.

That's what Fast Company senior staff writer Liz Segran contends. In a personal essay, she reveals how after earning a PhD and three years of fruitless searching for a professorship, she took an internship at age 30. The move, although humbling, served to open the door to a new career as a journalist, and she's flourished ever since.

Segran's story isn't a common one.
Mostly it falls into grunt work and office hell, but people play the lottery, too. And if you are headed for office hell, anyway, you might as well learn the ropes as soon as possible.
---
Quote of the Day
Never accept work where you're not learning.
| Charles Eames
---
Elsewhere
Recession Already Grips Corners of U.S., Menacing Trump's 2020 Bid | The recession's already here, it's just not equally distributed, according to Shawn Donnan.
For all the debate on whether the U.S. is headed for a recession there's plenty of evidence that corners of the economy — such as the one [president Greg] Petras [of Kuhn North America, which employs some 600 people at its farm-equipment factory in Wisconsin] and his employees inhabit — may already have tumbled into one.

After two boom years the picture has changed for America's factories. Battered by rising uncertainty and the damper it has put on capital expenditures, slowing export markets, a stronger dollar, and higher input costs due to tariffs, U.S. manufacturers are making less than they did a year ago.

A widely watched index of manufacturing activity compiled by the Institute for Supply Management showed a contraction in August — the first since 2016. The Sept. 3 data release sent U.S. stock prices and bond yields tumbling as it confirmed a worrying trend that became visible over the summer, when Federal Reserve data showed factory output falling for a second consecutive quarter.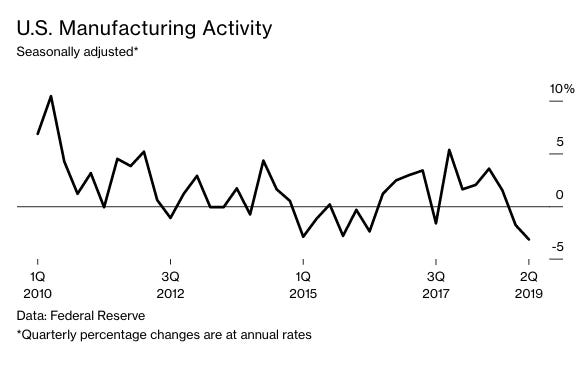 The surge in industrial jobs seen in the first two years of the Trump presidency has also gone into reverse in some parts of the country. Nationally, the U.S. has added 44,000 manufacturing jobs so far this year, according to data released on Friday. But that's way down from the 170,000 added in the same period last year.

In 22 states — including electorally important ones like Wisconsin and Pennsylvania — the number of people working in factories actually fell in the first seven months of this year, according to figures compiled by the Economic Innovation Group, a think tank.

[…]

The inescapable irony is that Trump's trade wars have helped create a scenario similar to one that helped get him elected in 2016. As a candidate, Trump benefited from the grinding and uneven recovery from the last recession. He also got a boost from a manufacturing slowdown that struck the Rust Belt just as he hit the stump promising a new era of protectionism.

The last time the U.S. logged two consecutive contractions in quarterly industrial production before this year was the first half of 2016. The country lost almost 30,000 manufacturing jobs that year as a collapse in oil prices hit the energy sector and filtered through manufacturing. Industrial regions such as western Pennsylvania saw a slowdown in shale oil projects and in sectors supplying them, such as steel. Yet none of those 2016 quarters saw as large a slump as the 3.1% fall in output recorded in the second quarter of this year.

Nationally, the U.S. has not yet seen a collapse in factory jobs. But in politics, timing and geography matter. Almost all of the gains in manufacturing employment came in the first two years of Trump's presidency, and things have gone into reverse in swing states like Pennsylvania, which lost more than 8,000 manufacturing jobs in the first seven months of this year.
This dramatic drop in manufacturing hasn't registered in the national debate yet. This could be the start of a full-blown recession, and the political implications are stark: the manufacturing mid-west will turn on the GOP and Trump, whose trade war has led to this precipice.
:::
Brief | Front, Shared Inbox Pioneer | Front is moving ahead with more channels of messaging, more integrations, and more automation | Stowe Boyd
:::
If you are receiving this you've probably signed up for the Work Futures Daily newsletter. If not, sign up here. Support our work by becoming a sponsor, here. Or become a follower on Medium, here, and click on the applause button. Drop a few bucks in the hat, here, if you'd like to support our work on a one-time basis.
---
Originally posted on Work Futures.