Goals and Freedom
| The Future of The Future Of Work survey results | Johna Hagel on Anxious Execs | Benedict Carey on Bullying Bosses |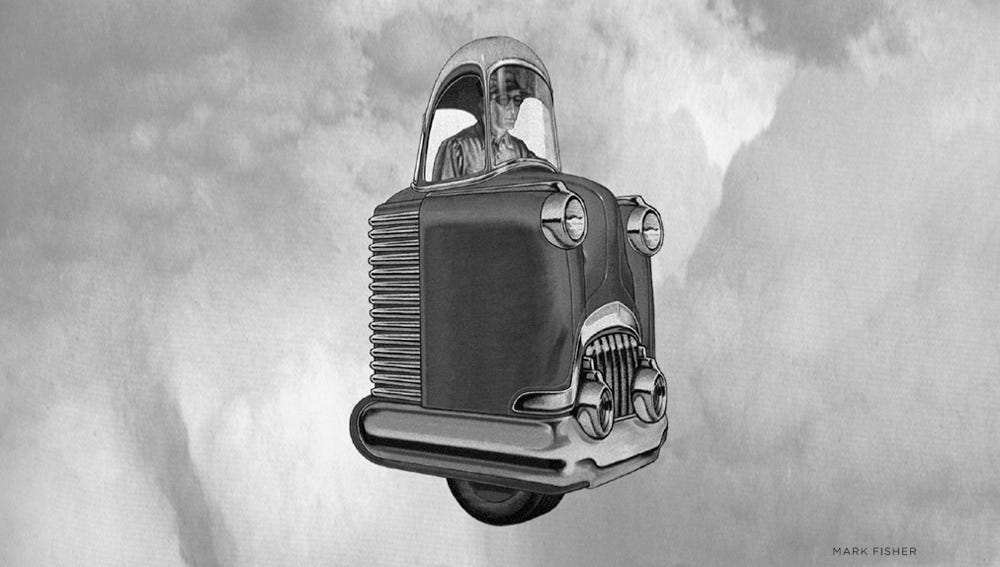 Beacon NY - 2019-02-28 — Only a few links today, because I am spending time on the Future of The Future Of Work survey. I posted the full results on workfutures.org: The Future of The Future Of Work: Survey 1 Results.
The bottom line is this:
I was surprised at some of the low votes for what I think are important topics.

There were a large number of great recommendations for a/ topics I hadn't mentioned, and b/ questions that people thought I would have asked.

A few surprises in publications people rely on, with The Guardian getting more votes than The NY Times, and Medium topping the list.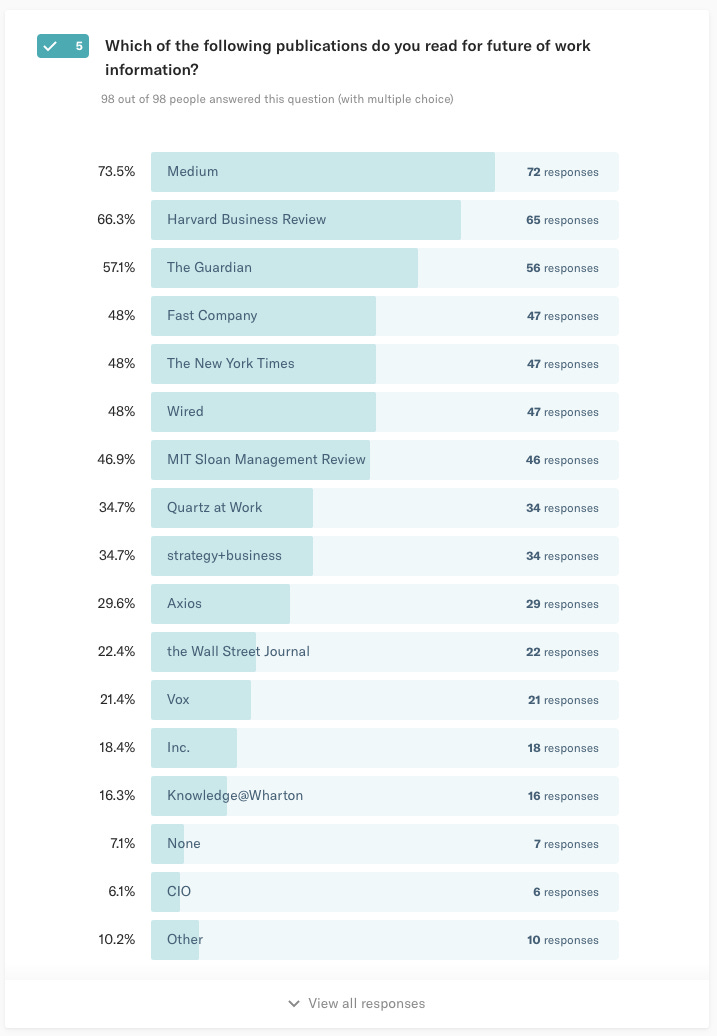 Here's the rankings table for topics: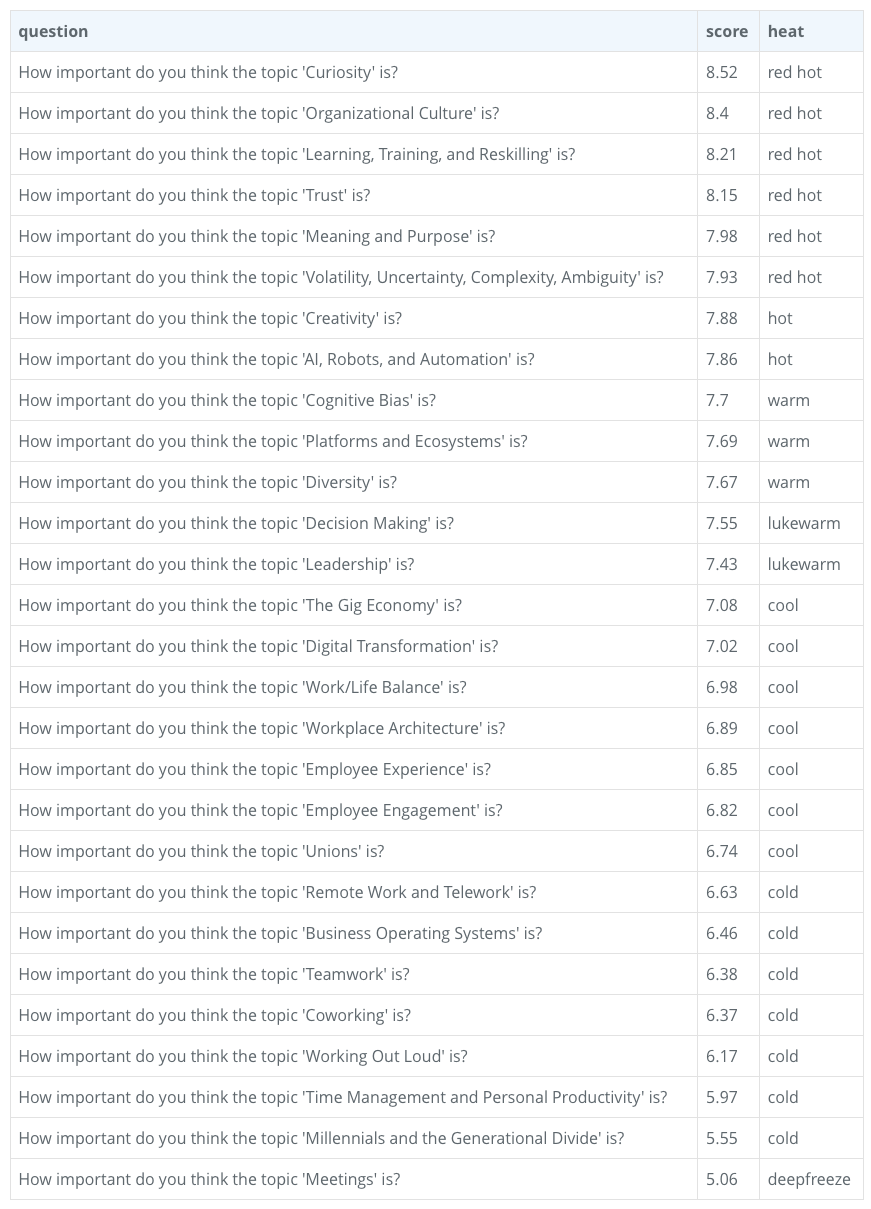 I'll be creating and promoting a follow on survey next week.
Thanks again to all that participated. This will guide my thinking, although I won't be cutting off all discussions of cool and cold topics. Maybe I will try to convince people why they are more important that the survey suggests!
:::
If you're getting this you probably signed up at workfutures.org (or one of its predecessors) or stoweboyd.com. If someone forwarded this to you, sign up here.
Consider becoming a paid sponsor to support our work, and to receive in-depth investigative reporting and discounts to other events, reports, and activities.
---
sponsor message from Boundaryless SRL
Platform Design 2-Day Masterclass New York City 18-19 March led by Simone Cicero
Look to the bottom of the newsletter for more information.
---
Links
Give Your Employees Specific Goals and the Freedom to Figure Out How to Reach Them | John Hagel and Cathy Engelbert advocate a quietly subversive approach to increasing autonomy at work, an approach that won't 'make executives anxious'.
If we give people more freedom and responsibility, how do we know they will use it well? How do we know people will use freedom in the most productive way, rather than losing focus or wasting time and effort through lack of coordination?

Our answer is paradoxical: we need to specify more, and also, specify less. This means we need to be very explicit with employees about how we measure success and the metrics that drive it (specify more). Then, having stated clearly how success is measured, we need to allow employees to freely, creatively pursue ways to reach it (specify less).
That last paragraph presents us an almost Taoist balance between autonomy and heteronomy, between individual freedom and subordination to the goals, mission, and culture of the company.
How to coax the anxious execs?
Practically speaking, this shift requires a fundamental change in mindset and management practices. Many executives have a good idea of outcomes they would like to specify. And many intuitively appreciate the idea of being relentless on outcomes while creating freedom for execution. But where to start can seem mysterious. We suggest three steps.

Focus on the capabilities needed to step up performance improvement.

Redesign work environments to foster those capabilities.

Pursue high impact early initiatives and communicate, early and often, what it all means to your workers.
The authors explain these in more detail. A must read (HBR paywall).
:::
When the Bully Is the Boss | Benedict Carey looks into one of the worst canards of business:
The presumption that tough bosses get results — and fast — compared with gentler leaders is widespread, and rooted partly in the published life stories of successful C.E.O.s. Bobby Knight, the Indiana University basketball coach and author of "The Power of Negative Thinking," was notoriously harsh, and enormously successful. So was Steve Jobs, the co-founder of Apple.

But researchers who study organizations, productivity and leadership styles attribute the achievements of such figures to exceptional ability. The research thus far has found no evidence to support the axiom that tougher bosses get better results.

"We've been looking for it," said Rebecca Greenbaum, a professor in Rutgers University's school of management and labor relations, who formerly worked in the insurance industry. "We'd love to find out if there are good aspects of abusive leadership. There's been a lot of research. We just can't find any upside."
In case you wondered… I never bought it.
:::
---
Quote of the Day
Destroying job security while increasing working hours does not create a more productive (let alone more innovative or loyal) workforce.
| David Graeber, Of Flying Cars and the Declining Rate of Profit
---
sponsor message from Boundaryless SRL
Platform Design 2-Day Masterclass New York City 18-19 March led by Simone Cicero
A moment of training and strategic thinking at the same time: two days in which you will learn - either independently or in a team - to use the Platform Design Toolkit, the most comprehensive set of tools for the design and prototyping platform strategies, used by thousands of practitioners around the world.
You'll be able to apply it directly to your product, a process, or to the whole organization, a new service, a startup idea or to explore a market that you care about.
After building your strategic vision, we will help you prepare an implementation plan to validate your platform idea and test it through a lean prototyping approach that will avoid mistakes and waste of energy and money.
We will help you to get straight to a Minimum Viable Platform that will validate the appeal for your reference ecosystem, and we will prepare you to grow after. These two days will:
save you from bad investments and wasted expenses

take you from zero to a clear execution plan for the coming months.
Click to register, or for more information.
Stowe's endorsement:
I recently experienced a presentation by Simone Cicero about the strategy and economics of platform organizations, and he is the real deal. If you or your organization is interested in getting up to speed on the economics of platform ecosystems, this is an essential investment.