Happy, er, Welcome to 2018!
Hope | On Productivity | Worst Job In Tech? | If Automation is so good, where's the productivity? | Automation will hit women and minorities hardest
I made some predictions for 2018, and with a few exceptions, it doesn't look that happy. So, instead, welcome to 2018.
I suggested that maybe I should shift my thinking about futures work:
I might be better off thinking about the future adversarially, as if I were wrestling with a shadowed but immensely strong and fanged opponent, instead of looking out on a rolling plain filled with slowly-ambling herbivorous events and interactions. Alfred North Whitehead said 'It is the business of the future to be dangerous.' And maybe I should approach it from a different angle: maybe I should visualize my work as a futurist more like storming a castle than opening the mail.
But let's at least hold onto hope. Rebecca Solnit tells us that 'hope is the embrace of the unknown and the unknowable, an alternative to the certainty of both optimists and pessimists':
Hope locates itself in the premises that we don't know what will happen and that in the spaciousness of uncertainty is room to act. When you recognise uncertainty, you recognise that you may be able to influence the outcomes – you alone or you in concert with a few dozen or several million others. Hope is an embrace of the unknown and the unknowable, an alternative to the certainty of both optimists and pessimists. Optimists think it will all be fine without our involvement; pessimists adopt the opposite position; both excuse themselves from acting. It is the belief that what we do matters even though how and when it may matter, who and what it may impact, are not things we can know beforehand. We may not, in fact, know them afterwards either, but they matter all the same, and history is full of people whose influence was most powerful after they were gone.


Rebecca Solnit
As I wrote in 2016, reflecting on Solnit's words, 
The world, then, is divided into three, not two; not just the optimists versus the pessimists in an endless argument of up and down, right and wrong, in and out. There are three, and the third are those who hope, who hold out against despair and disengagement, even in the darkest days.

Be a part of the third third, those who hope, and not the other two thirds.
     ………
ON PRODUCTIVITY
A group of Deloitte researchers – including my friends John Hagel and John Seely Brown, with Andrew de Maar, and Maggie Wooll – have written a detailed and deeply worked report called Beyond Process, which they characterize as 'a new opportunity for accelerating performance improvement':
There's a new approach that can not only improve performance but accelerate it. This approach allows us to break out of the trap of diminishing returns—in which a single-minded focus on cost-cutting finds less and less to cut—to a performance curve of increasing returns, where targeted efforts lead to better performance, which in turn fuel even better performance.

This is an approach for thriving in a world of increasing and rapid change.

Now, granted, organizations may struggle with aspects of this approach, not least because it challenges some basic assumptions about what is required to deliver operating performance. Taking advantage of this opportunity requires focusing on a part of the organization that is largely invisible today: the frontline workgroup. 
Their approach detailed by the Deloitte group is somewhat subversive, focusing on frontline workgroups, and stopping the idolization of 'high-performing teams'.
Over the past several decades, the business world has relentlessly pursued efficiency-driven business process reengineering, seeking to integrate, standardize, and automate tasks in ways that can reduce costs, increase speed, and deliver more predictable outcomes. As the landscape shifts, perhaps it's time for organizations to expand their focus beyond business process reengineering to pursue business practice redesign, helping frontline workgroups to learn faster and accelerate performance improvement, especially in environments that are shaped by increasing uncertainty and unexpected events. The perspective we outline here goes beyond the growing work done on high-performing teams and agile practices by focusing specifically on the practices necessary to accelerate performance improvement over time.
This is an insightful effort to unsnarl the productivity paradox – where companies are investing in new digital infrastructure but productivity gains are modest. Their conclusion is that companies are focused too much on reducing uncertainty and should be doing the opposite. (Remember Solnit's embrace of uncertainty, above?)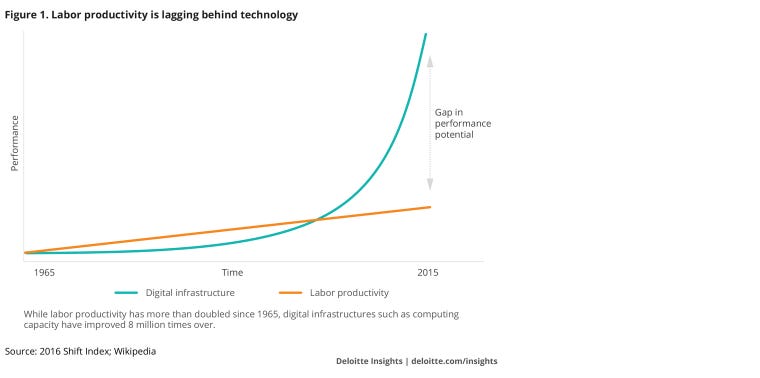 A must read, and a great way to start 2018.
ON SOCIAL MEDIA
Lauren Weber and Deepa Seetharaman turn over a few rocks to investigate the slithery, creepy-crawly world of social media content moderation in The Worst Job in Technology: Staring at Human Depravity to Keep It Off Facebook:
By her second day on the job, Sarah Katz knew how jarring it can be to work as a content moderator for Facebook Inc. She says she saw anti-Semitic speech, bestiality photos and video of what seemed to be a girl and boy told by an adult off-screen to have sexual contact with each other.

Ms. Katz, 27 years old, says she reviewed as many as 8,000 posts a day, with little training on how to handle the distress, though she had to sign a waiver warning her about what she would encounter. Coping mechanisms among content moderators included a dark sense of humor and swiveling around in their chairs to commiserate after a particularly disturbing post.

She worked at Facebook's headquarters campus in Menlo Park, Calif., and ate for free in company cafeterias. But she wasn't a Facebook employee. Ms. Katz was hired by a staffing company that works for another company that in turn provides thousands of outside workers to the social network.
There are tens of thousands of contract workers filtering content for companies like Facebook, YouTube, Apple, and Microsoft. 
This seems like an area that is ripe for AI disruption, and I'm sure the above companies are building that into the solutions being used, so come 2019, these jobs – thankfully – will be gone.
      ………
ON AUTOMATION
Noah Smith returns to the productivity paradox, but this time from the viewpoint of automation. If robots and AI are going to up business productivity, why haven't the numbers gone up?
In a new paper, economists Erik Brynjolfsson, Daniel Rock and Chad Syverson have an answer: Wait. It's coming.

Often, when a very versatile new technology comes along, it takes a while before businesses figure out how to use it effectively. Electricity, as economist Paul David has documented, is a classic example. Simply adding electric power to factories made them a bit better, but the real gains came when companies figured out that changing the configuration of factories would allow electricity to dramatically speed production.

Machine learning, Brynjolfsson et al. say, will be much the same. Because it's such a general-purpose technology, companies will eventually find whole new ways of doing business that are built around it. On the production side, they'll move beyond obvious things like driverless cars, and create new gadgets and services that we can only dream of. And machine learning will also lead to other new technologies, just as computer technology and the internet led to machine learning. 

If Brynjolfsson et al. are right, then those who have dismissed the rise-of-the-robots story are in for a nasty shock. That phenomenon could just be getting started. On one hand, that would make the economy even more fantastically productive than it is today. But it could also lead to the widespread displacement of human labor that many fear.

[…]

Techno-optimists like to recall the misplaced fear of industrialization when arguing that machine learning will be a good thing for human workers. But there's no reason history has to repeat itself. It might be the case that people simply have two kinds of skills – physical and cognitive. In the Industrial Revolution, technology replaced many human physical skills, but we learned to use our brains to complement the dumb machines. But now, if machine learning replaces human cognitive skills, what skills will humans have left that machines lack?

Many suggest it's the social skills that can't be automated, but I bet that people will learn to accept a reasonable facsimile of that pretty quickly. 
So, although Noah Smith doesn't get into the policy side of this discussion, we need to start considering how we will respond – socially and politically – if Brynolfsson et al are right. When will we step in, on the fast descent to joblessness?
  …
Lianna Brinded looks into the impact of future automation, and finds that the job displacement that's coming will have a disproportionate impact on women and minorities:
The Institute for Public Policy Research (IPPR) laid out in a new report (pdf) the positive and negative effects of adding robots to the workplace. On the plus side, it estimates that robots could raise UK productivity growth by 0.8% to 1.4% each year and therefore help boost GDP by 10% by 2030. It also predicts that there is £290 billion ($390 billion) worth of wages associated with jobs that have the "technical potential" to become automated. "If automation leads to lower average wages or working hours, or loss of jobs in aggregate, a significant amount of national income could be transferred from labour to capital," says the report.

On the flip side, it warned that automation will widen the pay gaps for women and minorities since robots are likely to phase out lower-skilled jobs over the next few decades, and the jobs created in their place will be more highly skilled. Low-wage jobs are five times more likely to be automated than higher paid jobs, according to the report.

"Automation risks increasing gender and race inequality," says IPPR, noting that women and some minority groups are more likely to work in low-skill, "automatable" occupations. "The impact on inequality will depend on the skill-level of new jobs created and individuals' ability to access opportunities."
This is another aspect of the global gender income gap, which is widening: