Work Futures Daily - Keeping to the Plan
I'm resisting the temptation to add links to this issue, written yesterday afternoon.
Beacon NY - 2018-06-14 - I'm going to have to start pushing out the Work Futures Daily before I start reading the news, because I was tempted to add new material from the headlines. Under the new regimen of putting together the newsletter in the late afternoon, I am struggling with my inclinations. But I have resisted.
Note: I will be sending out this week's Work Futures Weekly on the weekend.
...
A recurring theme today: workers not getting paid on time, or outright ripped off by employers. At least progressive states like California are creating new laws to make it harder to do.
…
Work Futures Daily is a labor of love. If you enjoy it, please share with your friends and co-workers. Please consider a paid subscription!
---
Looking for an easy way to prepare and run worthwhile meetings? Try Pinstriped.
sponsored content
---
One-Liners
Bonsai, in How Often Do Freelancers Get Paid Late? It Depends If You're a Woman or Man., lets us know that female freelancers are paid late 31% of the time versus 24% for men. Oh, and if you want to get paid on time, avoid cryptocurrencies (and the people that like to pay that way).
…
Christina Caron reports on a suit against the Cheesecake Factory brought by janitors:
The Cheesecake Factory and a janitorial contractor have been found liable in a $4.57 million wage theft case involving hundreds of underpaid janitorial workers at eight California locations, the state's Department of Industrial Relations said on Monday, sending a strong message to businesses that they are accountable for workplace violations — even if their workers are hired by contractors.

The janitors, who worked at Cheesecake Factory restaurants in Orange and San Diego Counties, started their shifts around midnight, worked until morning without proper periods for meals or rest breaks, and were not allowed to leave until kitchen managers conducted walk-throughs to review their work, the investigation found.

The walk-throughs, which led to additional tasks, resulted in each worker logging up to 10 hours of unpaid overtime each week, the Department of Industrial Relations said.
In this case, there were several levels of subcontracting:
The Cheesecake Factory had used the janitorial contractor Americlean Janitorial Services Corporation, which subcontracted the work to Magic Touch Commercial Cleaning, the company that managed the 559 underpaid workers.

[...]

Subcontracting is part of the problem.

"When you're subcontracting the work force, it's very hard to find the chain of liability," Mr. Narro said. "These janitors sometimes don't even know who their employers are."

But two recent laws make it more difficult for California employers to avoid responsibility for the contractors they hire.

A law signed by Gov. Jerry Brown that took effect in 2015 holds employers accountable for workplace violations originating from their contractor. And another law, which went into effect in 2016, says in part that businesses that contract for services in the property services industry, which includes janitorial work, will be jointly liable for any unpaid wages, including interest.
…
Christopher Mims comes out against the Super CEO Cult in The Age of Tech Superheroes Must End, and he quoted my friend Paul Kedrosky:
It's understandable how we got here—the genius tech founder mythology has its roots in the pantheon of real-world demigods widely credited with revolutionizing industry, from Thomas Edison and Gordon Moore to Steve Jobs and Jeff Bezos. Investors and experts in corporate governance say the problem is that building corporations and stock-market valuations on the notion that every tech CEO is potentially building another Apple is ridiculous and counterproductive.

"If your only argument is Steve Jobs or Jeff Bezos, you don't have an argument—you have a couple of exceptions," says Paul Kedrosky, a partner at early-stage investment firm SK Ventures.

The worship of founder-CEOs is at its apex right now for two related reasons. First, there's the explosion in capital channeled into venture-backed startups. All that money chasing only so many hot startups means founders have more leverage than ever, and they are finding ways to control their companies no matter what, effectively making themselves dictator for life.

[...]

When investors once again see chief executives as mere mortals, who knows what might happen. Perhaps the good governance that has kept the largest firms chugging along decade after decade—even as they keep pace with some of these upstarts—could become trendy again.
…
LinkedIn now offers a 'Your Commute' service, Ingrid Lunden informs us:
'Your Commute' as the feature is called, is now available globally on mobile, providing location data for all businesses where LinkedIn already has location information, and it will be coming soon to desktop, senior product manager Dan Li told TechCrunch.

The feature will appear within job postings on LinkedIn and will become a part of how LinkedIn surfaces job opportunities in its search feature for its 500 million-plus users. "When members save their location preferences in Career Interests, we're able to provide more relevant job recommendations that fit exactly what they're looking for in their next role," he said. "We're thinking through additional ways members can use location information to improve their job searches in the near future."
---
Quote of the Day
When we agree to talk about people as cogs, we lose our humanity.
| Masha Gessen, Immigrants Shouldn't Have to Be 'Talented' to Be Welcome
---
On Consent-based Decision Making
I read a helpful piece by Vivek Sri on the Asana Wavelength blog, What's right for your company? Decision making in 3 different organizational structures. Sri compares Top-down, Consensus, and Distributed decision making styles. But I think there is a fourth, distinct style, Consent, that he missed.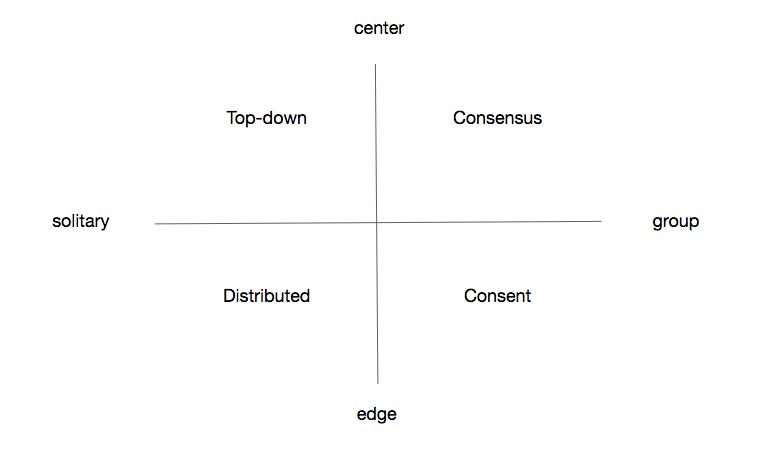 I've stepped away from the method that Sri used in the article to characterize his three styles, although it's a reasonable approach. Check it out.
I think about organizations as a network, with those farthest from the customers, partners, and markets are at the center of the organization (like conventional CEO's, C-suite, senior execs, back office folks, etc.).
Top-down decision making is characterized by decisions made at the center of an organization, and by a solitary autocratic centroid, at that (or a small management team, like a CEO and the company's VPs).

Consensus decision making is often thought of as being more empowering for employees, but in fact it is more like the tyranny of the group blocking innovation and experimentation, since everyone has to agree to the decision. This is due to the natural conservatism in groups, and aversion to risk. Consensus decision making is quite similar to Top-down, in that regard.

Distributed decision making retains the solitary decision maker like Top-down, but shifts the decision out toward the edge, closer to where the decision is being applied. This is likely to improve decisions since those involved are most knowledgeable about the issue. But like Top-down, there is the likelihood that those impacted by the decision may feel that they weren't involved sufficiently.

Consent-based decision making shares characteristics with Consensus and Distributed. The decision is moved out to the edge as in Distributed, but the group impacted by the decision have a voice. Once the decision has been spelled out -- by an individual or a subset of the larger group -- each member of the group must provide their consent, meaning 'no significant objection' to the decision. Note that this is significantly different from consensus, partly because any such objection must be raised, and its significance established.
My bet is that Consent -- and not the other three styles of decision making -- will increasingly become the atom of 'fast-and-loose' organizations, from which the molecules of the new work culture will emerge. By allowing those closest to a problem take the lead in resolving it, but balancing necessary speed and proximity with the need of those impacted to raise objections when warranted, Consent is perhaps the best general approach to organizational decision making.
---