Work Futures Daily | Knowledge and Ignorance
| Kickstarter Union | Unoffice! | CA Freelance Writer Limits | Paul Krugman | Robots Report | Dropbox Spaces |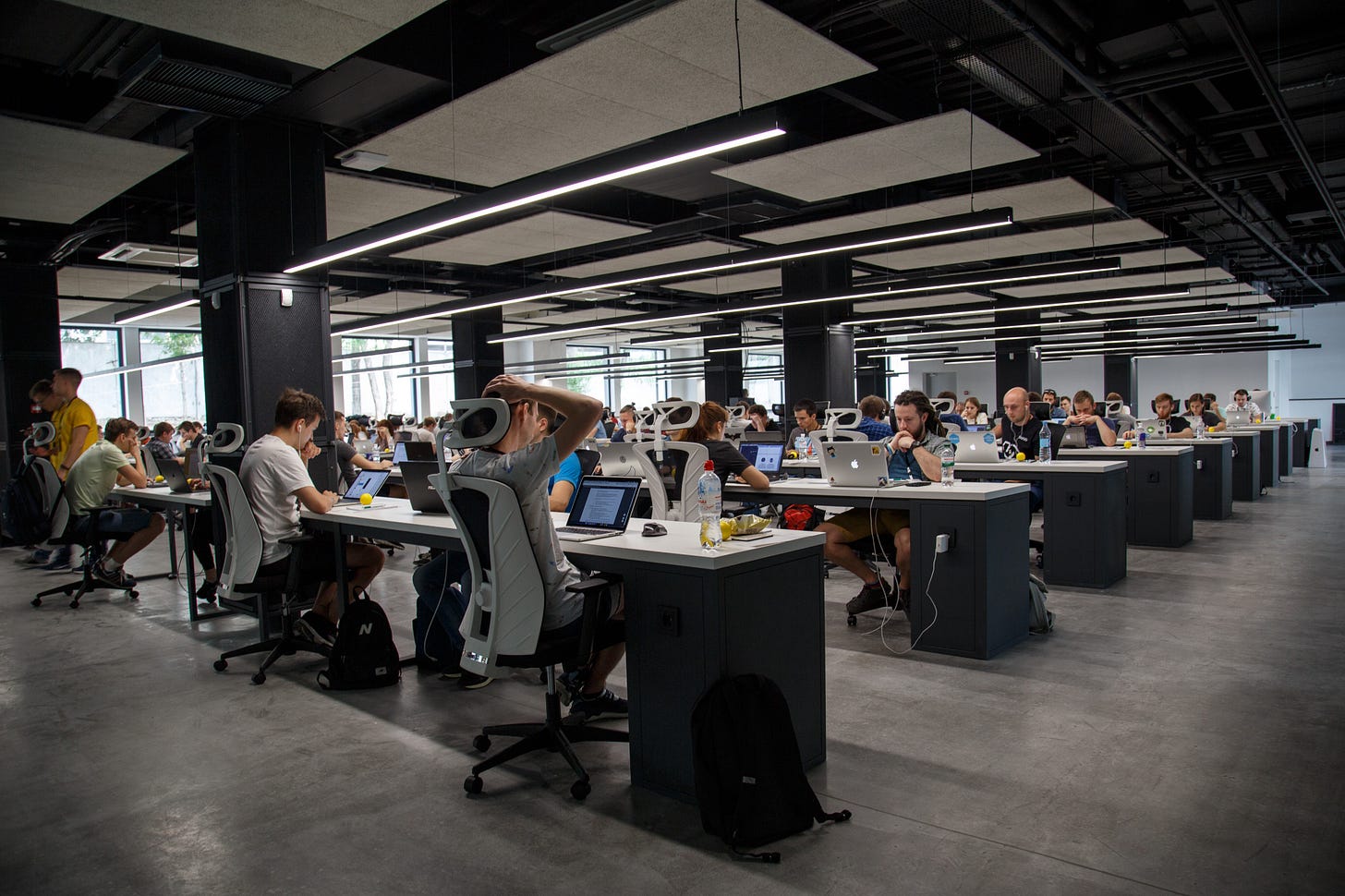 source: Alex Kotliarskyi
2019–09–28 | San Francisco CA — The combination of travel and head cold has really smashed my productivity this week. Apologies.
:::
I encountered what looked to be a forty-five-minute waiting line at the Apple store in Union Square this morning. People want the new iPhones, I guess.
---
Stories
Here's What the CEO of Kickstarter Said to Creators About Firing Union Organizers | Lauren Kaori Gurley reports on the acrimonious interactions between CEO Aziz Hasan and workers at Kickstarter. He denies firing organizers in retaliation, but clearly states his objections to the union:
Since the union drive first became public in March of this year, the company has made it clear that it opposes a union. In his letter, Hasan asserts that management believes a union would hurt the company and that union organizers have not made their complaints clear to the company. "The union framework is inherently adversarial," he writes. "That dynamic doesn't reflect who we are as a company, how we interact, how we make decisions, or where we need to go. We believe that in many ways it would set us back, and that the us vs. them binary already has."

If Kickstarter unionizes, it would be one of the first white collar tech unions in the United States. This week 80 Google contractors in Pittsburgh voted to form Google's first white collar union [the United Steelworkers Union]. Slate has reported that over half of Kickstarter's non-management employees support a union.

Some Kickstarter employees have speculated to Motherboard that the company does not want to set a new precedent for the tech industry.

A Kickstarter employee told Motherboard this week that the union is contemplating asking the company to voluntarily recognize the union. Today's statement from Kickstarter says, "we've said that it would be irresponsible of us to voluntarily recognize the union if asked."
Germany and other European countries manage to operate with unionized workers fairly amicably. American managers are going to have to get used to unionized white-collar workers.
:::
Two pieces about the ills of offices.
Burn your office down. Today! | Mouna Boumal pens a manifesto for unofficing your business:
Your employees hate coming to the office every morning. They hate it. It slowly kills their potential and creativity, and they feel it. The freest spirits have been feeling stuck for quite a while now. Eventually, they will end up hating their job and leaving for another one. You think I'm exaggerating? I'm really not.

I don't blame you, you paid the rent of this beautiful space, bought really cool office supplies and designed the place so beautifully. I blame the office, I blame the idea of the modern office that has been inhibiting the productivity and creativity of people instead of unleashing it. (I secretly blame you too for embracing that idea)

This idea is telling you that your 'employees' have to be sitting at a desk for eight hours a day to be producing the work and meeting the expectations. It's wrong. It's wrong and painful. People don't need an office to deliver results, they need a culture. They need a culture that puts them in the centre, a culture that celebrates trust, freedom and responsibility in the work environment.

Yes. Trust, freedom and responsibility.
And Farhad Manjoo suggests Open Offices Are a Capitalist Dead End, sparked by the WeWork meltdown:
How did so many people put so much money into something so many were warning would end up so badly? What was We thinking?

And then it hit me: We wasn't thinking.

WeWork? Not really. WeCan't! We'reTooDistracted!

Much will be written in the coming weeks about how WeWork failed investors and employees. But I want to spotlight another constituency. WeWork's fundamental business idea — to cram as many people as possible into swank, high-dollar office space, and then shower them with snacks and foosball-type perks so they overlook the distraction-carnival of their desks — fails office workers, too.

The model fails you even if you don't work at a WeWork, because WeWork's underlying idea has been an inspiration for a range of workplaces, possibly even your own. As urban rents crept up and the economy reached full employment over the last decade, American offices got more and more stuffed. On average, workers now get about 194 square feet of office space per person, down about 8 percent since 2009, according to a report by the real estate firm Cushman & Wakefield. WeWork has been accelerating the trend. At its newest offices, the company can more than double the density of most other offices, giving each worker less than 50 square feet of space.

As a socially anxious introvert with a lot of bespoke workplace rituals (I can't write without aromatherapy), I used to think I was simply a weirdo for finding modern offices insufferable. I've been working from my cozy home office for more than a decade, and now, when I go to the Times' headquarters in New York — where, for financial reasons, desks were recently converted from cubicles into open office benches — I cannot for the life of me get anything done.

But after chatting with colleagues, I realized it's not just me, and not just the Times: Modern offices aren't designed for deep work.
He doesn't offer much hope, either. But go read it.
:::
California's new 35-story limit for freelancers | Tony Baisotti reports on the new California Assembly Bill 5, and the fine print related to freelance journalists:
The core of the Dynamex decision, and of the new law, is a three-pronged "ABC test," which is used to determine who is and isn't a freelancer. The "B" prong, which presents the biggest issue for freelance journalism, states that employers can only contract out work that is "outside the usual course of the hiring entity's business." A company in the business of journalism, then, could not hire freelancers to do journalism.

As CJR reported in March, some publishers responded to the Dynamex ruling by cutting ties with freelancers based in California. The passage of Assembly Bill 5 offers some relief: freelance writers, editors, photographers and editorial cartoonists were given a partial carve-out, allowing publishers to hire them for up to 35 separate "content submissions" in a given year. (The law exempts more than 20 professions, including doctor, lawyer, manicurist, travel agent and commercial fisherman. Graphic designers have a full exemption, which means California judges could find themselves ruling on how much Photoshop work it takes to distinguish photography from graphic design.)
35 pieces seems like a low number. wouldn't 52 — one per week — be more natural?
But the final question — as always — has to be who benefits? Will this spur papers to hire employees who otherwise would be limited to 35 pieces? Will this simply force journalists to work for a longer list of papers, and papers to create a longer list of freelance journalists to spread work over? Will California gain from more benefits being paid by papers? Will full-time journalists gain more job security? The implications are unclear to me.
---
Quote of the Day
Knowledge is objectively better than ignorance.
| Paul Krugman, For Whom the Economy Grows
---
Elsewhere
World Robotics Report: Global Sales of Robots Hit $16.5B in 2018 | Keith Shaw reports on the annual World Robotics Report:
The International Federation of Robotics (IFR) today released its annual World Robotics Report, which showed an annual global sales value of $16.5 billion in 2018. The IFR said 422,000 were shipped globally in 2018, an increase of 6% compared with 2017 shipments. However, the group said shipments in 2019 will recede from the record levels in 2018, but also expects an average growth of 12% per year from 2020 to 2022.

In the service robots category, the IFR said the sales value of service robots for professional use increased 32% to $9.2 billion in 2018. Logistics systems, such as autonomous guided vehicles (AGVs) represent 41% of all units sold, followed by inspection and maintenance robots (39%). Service robots aimed at personal and domestic use, mainly in the area of household robots such as vacuums and lawn-mowing, was up 15% ($3.7 billion in sales).

The rate of robot installations in China and South Korea declined, but Asia remains the largest user of robots. Europe grew 14% and the Americas grew 20%, another record year for the sixth consecutive year.

In the U.S. robot installations increased for the eighth year in a row, with about 40,300 units shipped, representing a 22% increase compared to 2017. "Since 2010, the driver of the growth in all manufacturing industries in the U.S. has been the ongoing trend to automate production in order to strengthen the U.S. industries in both domestic and global markets," the World Robotics report said. In terms of annual installations, the U.S. has moved past Korea to third position on the list.
Trailing China and Japan, still.
Automotive is still the largest user, with almost 30% of total supply in 2018:
Almost 80% of industrial robot installations in the automotive industry took place in five key markets:

º China (39,351 units)

º Japan (17,364 units)

º Germany (15,673 units)

º United States (15,246 units)

º Republic of Korea (11,034 units)
Electronics Industry is the second-largest market declined 14%, and in third place Metals and Machinery took 10% of supply. Also, Logistics grew 53% and is the dominant sector for service robots. Warehousing and shipping are exploding.
The bottom line will be continued attrition of workers in automotive, electronics, metals and machinery, and logistics sectors.
:::
Dropbox Launches 'Smart Workspaces' | Stowe Boyd | Drew Houston repositions the company and wants to 'quiet the noise'
---
If you are receiving this you've probably signed up for the Work Futures Daily newsletter. If not, sign up here. Support our work by becoming a sponsor, here. Or become a follower on Medium, here, and click on the applause button. Drop a few bucks in the hat, here, if you'd like to support our work on a one-time basis.