Work Futures Daily | Life Is Too Short
| Women in Economics | Self-Organization Myths | Meetings Suck | Pronoun Policies | Hannah Goldfield |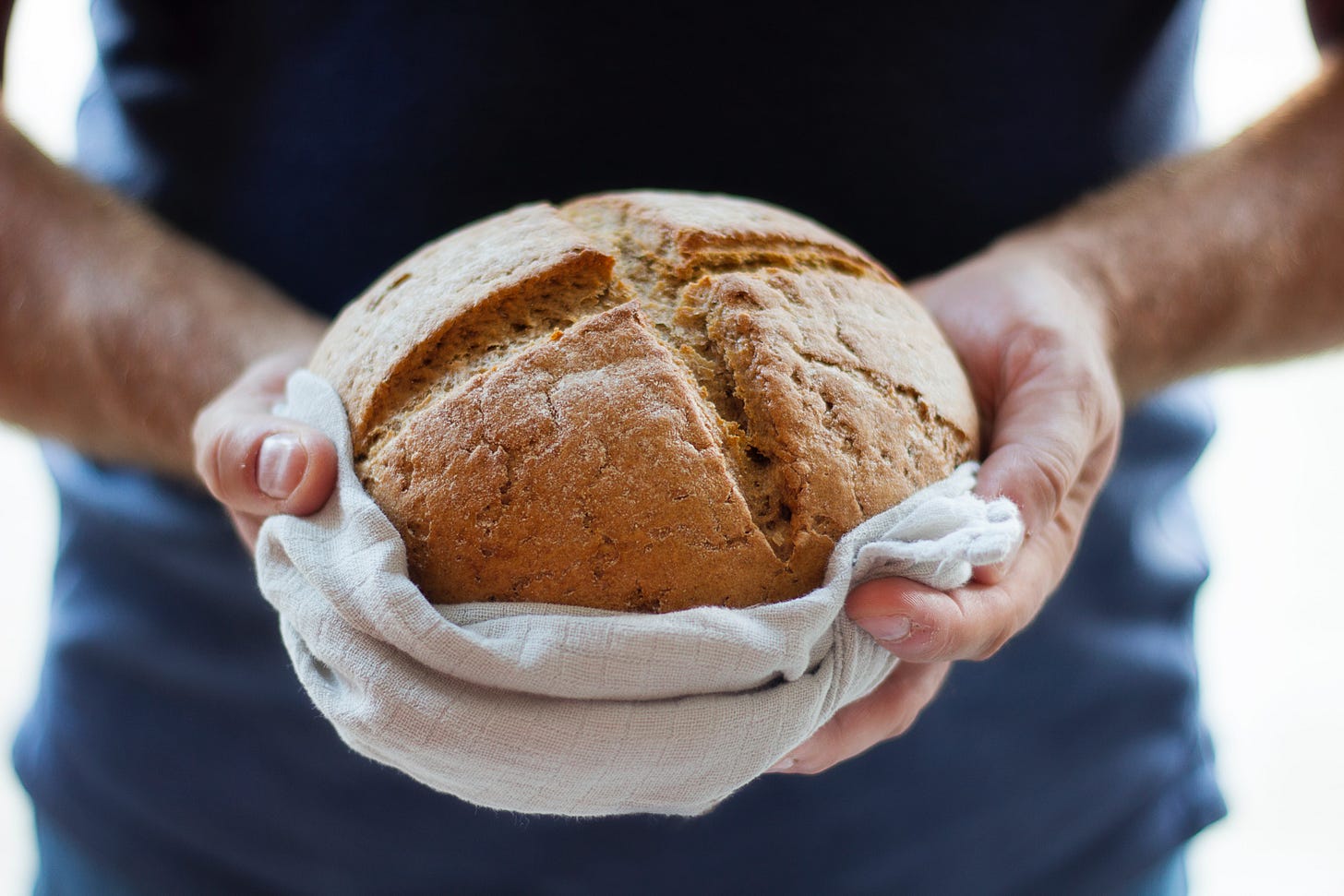 Photo by Kate Remmer on Unsplash
Beacon NY | 2019–10–22 | Yes, life is too short to be a no-bread person, Hannah Goldfield tells us.
:::
I am hoping to return to at least four WFDs a week. We'll see if I can fit it in.
---
Stories
Women Are Missing at Central Banks | Jack Ewing reports on new findings on how male-skewed the economics field is:
What is holding women back?

Outright discrimination is one obvious cause. Laura Hospido, an economist at the Bank of Spain, presented research she did with Carlos Sanz, also from the Spanish central bank, showing that economic papers by women are less likely to be accepted for publication than papers by men.

Deepa D. Datta, an economist at the Fed, examined 3,000 research papers published by the American central bank and found that men were more likely to collaborate with other men on research. Ms. Datta said her study, conducted with Robert Vigfusson of the Fed, didn't prove that discrimination was at play, though that was an obvious implication. Publishing papers is crucial to career advancement in economics.

Economics is a highly competitive, often unfriendly profession — especially if you're a woman, according to research presented by Alicia Modestino, an associate professor at Northeastern University.

She and Muriel Niederle of Stanford University and Justin Wolfers of the University of Michigan dispatched more than 90 student researchers to economics seminars at leading universities. Armed with a special iPad app, the students secretly tallied the interactions. Women speakers were more likely to be interrupted during the seminar and to face hostile questioning, according to the research.
See also:
Why Women's Voices Are Scarce in Economics
In Tense Times, 'Call in the Woman': Lagarde Will Lead the E.C.B.
Evidence of a Toxic Environment for Women in Economics
:::
Three myths and misconceptions about self-managing organisations | Lisa Gill is wonderful, but she buries the lede in this piece, with the following two paragraphs at the very end:
Self-managing organisations are not a cure-all. Like any organisational model, there are benefits and there are weaknesses. However, far from what self-management critics or skeptics might have us believe, this is not a fad or passing trend, and self-managing organisations are not utopian playgrounds. The most inspiring case studies show us that organisational self-management is a sophisticated and explicit human system which, when executed well, can liberate untapped knowledge, creativity, and energy in our organisations at a time when we desperately need it.

Self-managing organisations are more agile because authority is pushed down to individuals and teams; they are more responsive because information is shared widely and transparently so everyone is empowered to make fast, effective decisions; they are more resilient because leadership is distributed and everyone takes ownership and responsibility of the business; they are loved by customers because frontline employees are given full autonomy to do what's right without going up the chain of command; and they are more lean because there's no need for layers of management to supervise or delegate work. There is plenty to learn from and admire in these radicals daring to reinvent their organisations, and rest assured: this self-management "trend" is not going anywhere.
:::
How to Make Meetings Less Terrible | Stephen Dubner asks some good questions about bad meetings:
If so many people say they hate meetings, why do we have so many of them? What do we expect to happen in our meetings? And how can they be made less terrible?
How bad is it?
Workers consistently report "too many meetings" as their number one source of frustration at work and the number one time waster.
The high point of this piece is not measuring how much we hate meetings, but Priya Parker's insights on making them worthwhile:
"Our Monday morning staff meeting, our Wednesday afternoon sales meeting — that is not a purpose. That is a category," says Priya Parker, an expert on conflict resolution. "What is the primary purpose? What is your desired outcome of the staff meeting? If you are having this on a Monday morning, what do you want to be different for this week? If we weren't to have this Monday morning meeting, would anything be different? And if nothing would be different, scrap the meeting."

[…]

Parker, who has practiced conflict resolution in Africa, India, and the Middle East, is also the author of The Art of Gathering: How We Meet and Why It Matters. These days, she's hired primarily by companies in conflict. It turns out that companies often try to resolve their conflicts by holding meetings, many of which are unsuccessful. Why?

Parker says companies have "de-risked" their meetings too much. By eliminating the odds that anyone will be embarrassed or "lose face," they make too many meetings meaningless and irrelevant. Parker says it's not just a lack of conflict that's a problem. Corporations are also afflicted by a "cult of positivity," she says, an insistence on focusing on "how wonderful and great things are." All this positivity and lack of conflict, she argues, can seriously inhibit progress.

"Unhealthy peace can be as threatening to human connection as unhealthy conflict," Parker says. "And in my experience, because of the norms of our culture, and particularly in the U.S., most of our gatherings suffer from unhealthy peace, not unhealthy conflict."
Dubner relates how Parker likes to spark conflict to force confrontation instead of unhealthy peace, and recounts how she staged a 'cage match' at an architecture firm to help them examine their conflict over the firm's future.
Go read the whole thing.
:::
How pronoun policies can help HR referee when gender and religion clash | Ryan Golden reports on pronoun policies, which are a thing, now:
Nearly one-fifth of U.S. adults in a 2019 Pew Research Center survey said they personally know someone who uses pronouns such as "they" over pronouns such as "he" or "she." A recent report by the Chicago Tribune on inclusive language policies at IBM indicated employers are beginning to encounter issues around pronouns more frequently. And at this year's annual Society for Human Resource Management conference, pronouns were included as part of an early session on LGBTQ awareness and best practices for the workplace.

So could an employer, hypothetically, discipline an employee who does not adhere to a rule that employees must properly address co-workers, pronouns included? Does it matter if the employee cites a sincerely held religious belief?

[…]

Focus on "respecting" rather than "valuing"

A more helpful way to look at the issue may be to reconsider the wording of any policies employers choose to implement, Segal said. Employers looking to implement a policy about pronoun use may want to opt for language that specifies "respect."

"If someone wants to be referred to as a man, it's respectful to do so," Segal said. "You don't have to value it, but you do have to respect it. If you don't respect it you will have to face consequences." Including "value" may introduce new issues by implying the need for religious agreement, he added.
More on pronouns:
He, she or they: How companies are starting to address calls for a gender-neutral workplace
Talking About Pronouns in the Workplace
6 of the 2020 Democrats list pronouns in their Twitter bios
---
Quote of the Day
Life is too short to be a no-bread person.
| Hannah Goldfield
---
Elsewhere
SoftBank to take control of WeWork | David Faber, Alex Sherman, and Thomas Franck report on WeWork's near-collapse:
SoftBank is in very advanced talks to take control of embattled work space company WeWork, according to people familiar with the matter.

The deal will value WeWork between $7.5 billion and $8 billion on a pre-funding basis and could be announced as soon as Tuesday.

SoftBank exec Marcelo Claure will be involved in the company's management, while former CEO Adam Neumann's stake will fall to low double digits.
SoftBank could own nearly 80% if this goes forward.
:::
The Biggest If Of All, Part II | Stowe Boyd from 2014 | Uncertainty is at the heart of everything, and it's increasing:
We are moving from a world of problems, which demand speed, analysis, and elimination of uncertainty to solve, to a world of dilemmas, which demand patience, sense-making, and an engagement of uncertainty. | Denise Caron
:::
The Week in Work Technology | 2019–10–18 | Stowe Boyd | Asana Automate | Atlassian Automation for Jira | Google Ambient Computing Vision | Recent Research |
---
If you are receiving this you've probably signed up for the Work Futures Daily newsletter. If not, sign up, here. Support our work by becoming a sponsor, here. Or become a follower on Medium, here, and click on the applause button. Drop a few bucks in the hat, here, if you'd like to support our work on a one-time basis.