Models, Models, Models!
Shaping our narratives with graphical models
Beacon NY - 2018-06-28 - Somehow, models snuck up on me in this issue. Partly that's the outcome of some recent project work, but actually, it was sort of random, based on a collection of recent links that rose to the top of my reading pile.
By the way, I am on the verge of declaring 'read later' bankruptcy. If someone wants to become a millionaire, create a filter bot where links are analyzed dynamically by how likely they are to be of interest to me, and the criteria get more and more stringent the greater the number of links in my 'read later' pile.
---
---
On The Future of Work in Marketing
I've been working with Marshall Kirkpatrick of Sprinklr, and a group of talented contributors there as well as other colleagues on a project investigating The Future of Work in Marketing. I wrote two posts for the project in the past few weeks, where we looked at how marketing is going to change in the next ten years.
The starting point of this project is at least partly the insight that quantitative market research does not always lead to the best insights. As David Olgivy famously said,
The trouble with market research is that people don't think how they feel, they don't say what they think, and they don't do what they say.
So we decided to apply some futures thinking and techniques to explore possible futures, rather than survey marketing professionals about their hopes and fears about the future of work in marketing circles.
In Modeling the Future of Marketing - Part 1, I captured some of the results of an internal workshop, structured in part by applying the so-called Futures Cone popularized by Joseph Voros: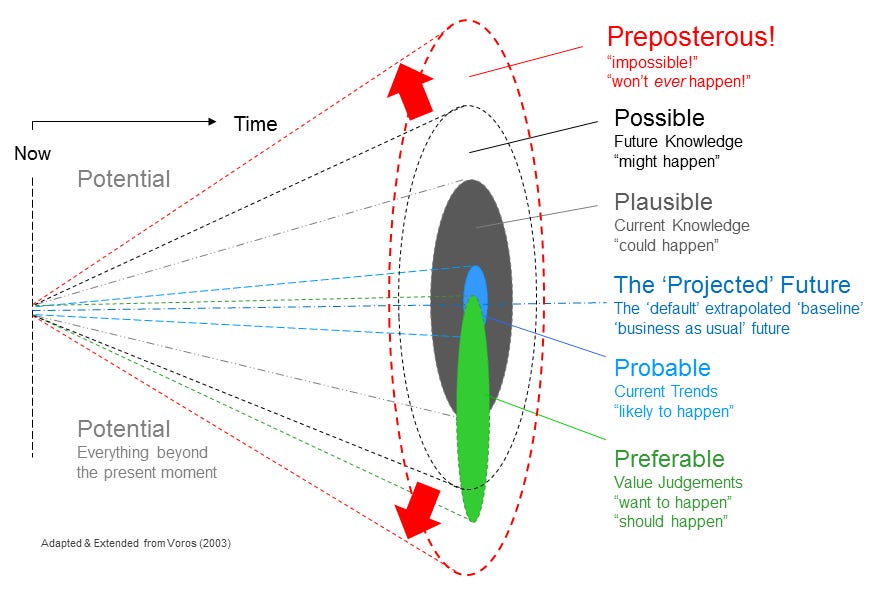 In Modeling the Future of Marketing - Part 2, I created a three-dimensional model that brings together probabilities for some trend, such as the adoption of AI in marketing work, plus the time dimension, and including the degree of impact that the trend will have. This looks like the chart below, showing the growing impact as AI ascends from task work, to entire functions -- running a social media marketing campaign -- to outright replacement of entire role in the marketing organization.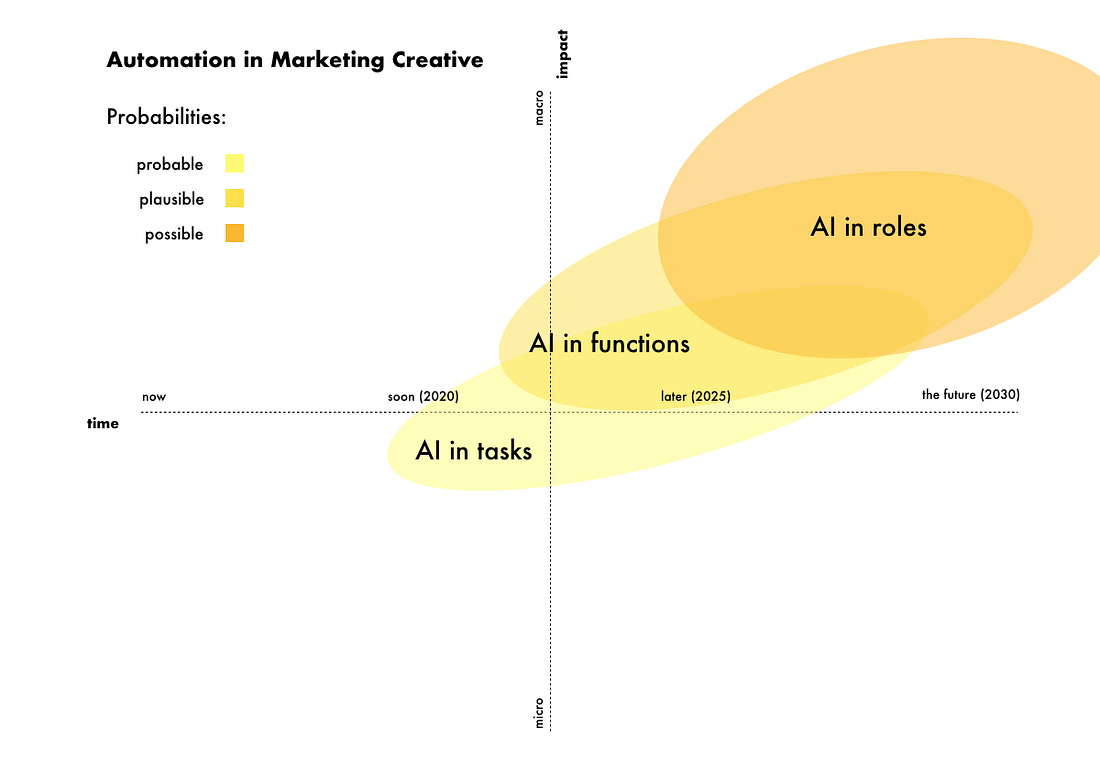 Take a deeper look by reading the two pieces. You can learn these techniques yourself, to help think systematically about the future, and start thinking through what you, your colleagues, and your company may need to adapt to in the coming days.
---
The Best People to Work With
The irrepressible Adam Grant was quoted by Oliver Staley on the topic of who are the best people to work, laying out a 2 by 2 matrix based on 'givers versus takers'.

Grant has found there's no correlation between being friendly and being a giver, nor being a grump and a taker. Givers and takers both can be either agreeable or disagreeable.

[...]

The agreeable giver may seem like the ideal employee, but Grant says their sunny disposition can make them averse to conflict and too eager to agree. Disagreeable givers, on the other hand, can be a pain in the ass, but valuable to an organization, Grant says. They're more likely to fight for what they believe in, challenge the status quo, and push the organization to make painful but necessary changes, he says. And because they're stingy with praise, when it's offered, it generally can be trusted.
I believe we should always aspire to challenge the status quo, since it is the only way to make progress. If that means being classified as disagreeable, so be it. It also turns out to be a true test of an organization's adaptability, since change always precedes making headway.
And since we're on the topic, here's another 2 by 2 matrix, approaching the same ideas in a different way, courtesy of The Exploration Habit:
In the end, for all the complex models of innovation and change that exist (there are a lot), both come down to a simple picture. If you want new results, you have to expand what you are capable of doing, the situations you can do things in, and the people you can work with.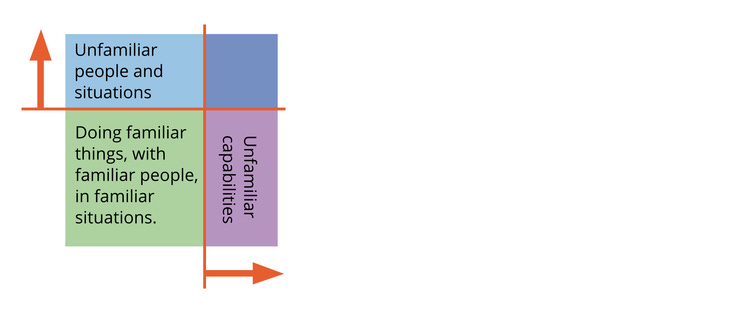 Getting up into that upper-right blue box probably requires some degree of disagreement, so look for the crazy ones, the ones who try to bring in the unfamiliar, seek to stretch past the familiar, and just won't stop arguing why.
---
On Unlimited Vacation Time
Katie Heaney points out the paradox of unlimited vacation time:
It feels like a gift: Unlimited vacation time. It sounds so … European. Many companies (particularly in the start-up and tech spheres) are starting to offer it to their employees in lieu of the more traditional model, in which a fixed number of vacation days are either given outright or accrued. More recently popularized by Richard Branson, the unlimited-vacation model is predicated on the idea that happy, rested employees make for successful companies, and that most people, if given the option, won't abuse such a policy. This much, it seems, is true. In fact, early research shows that employees with so-called unlimited vacation actually take fewer days off on average than their limited vacation counterparts: 13 days as opposed to 15. For many employees, unlimited vacation simply feels too good to be true.
It seems that these policies backfire. It might be better to adopt the opposite approach, a minimum vacation policy:
Alison Green, the voice behind the popular Ask a Manager blog and the Cut's Ask A Boss advice column, calls this perceptual hurdle the biggest downside to unlimited vacation policies for employees, explaining, "Because people aren't told 'you get X days per year,' they have no idea what's okay to take, and then end up not taking time off that they could because they don't want to be seen as slackers." While Green agrees that unlimited-vacation policies treat employees like "adults," what happens when employees kind of, sort of, want to be treated like children?

[...]

A few companies have already taken steps to restore some soothing guidelines around those open-ended vacation policies — at Evernote, employees who don't take at least a week off during the year forfeit a $1,000 bonus, and the German software company Travis CI has switched over to a "minimum vacation policy," requiring employees take at least 25 days off per year. The business analytics company Baremetrics, too, has instituted a four-week minimum, stipulating that those weeks include at least one full week (or longer) vacation.
I bet they will still have to force the work cultists to take even the minimum. Heaney quotes Douglas LaBier of the Center for Progressive Development, who says
It's like these animals they try to release from captivity, where they bring them into a natural environment, and they open the cage door, and the animals are too frightened to step outside. It can be like that.
---
Another Sort of Inbox Zero
Following the vacation theme, Marina Karen encounters a draconian solution to vacation email policy:
Some weeks ago, I emailed a professor to ask for an interview for a story. Seconds later, I got his out-of-office response.

"I am out of the office and expect to have only infrequent email access," the message said. Pretty standard stuff. He'd respond to my email when he returned. Then I kept reading.

Thank you for your message. Email received between [these dates] will be deleted from this server eight hours from now. Please send your message again after [this date].

What?
This might be a good way to sidestep the stress that comes from returning to an overflowing inbox after vacation. This approach puts the burden of a/ deciding if the email is important enough to resend later on, b/ posting a reminder about the date of return, and c/ then following up. And if it's not, fine. Delete.
Karen cites Dan Ariely, the behavioral economist, who analyzed email and found
roughly a third of messages did not clear the bar of needing to be seen at all, and only about a tenth of emails were considered important enough to need to be read within five minutes of receipt.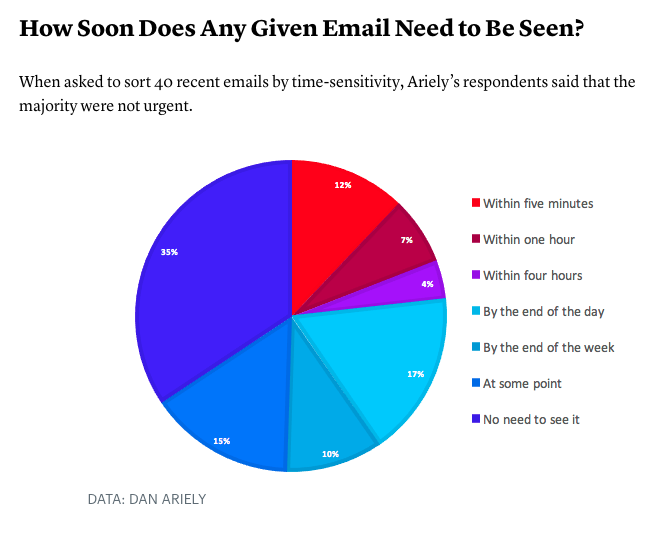 Since the subtext of this issue of the newsletter is models, I'll just say I wish this was a block chart or a line chart, because pie charts shouldn't be used. People are just no good at comparing slices of circles.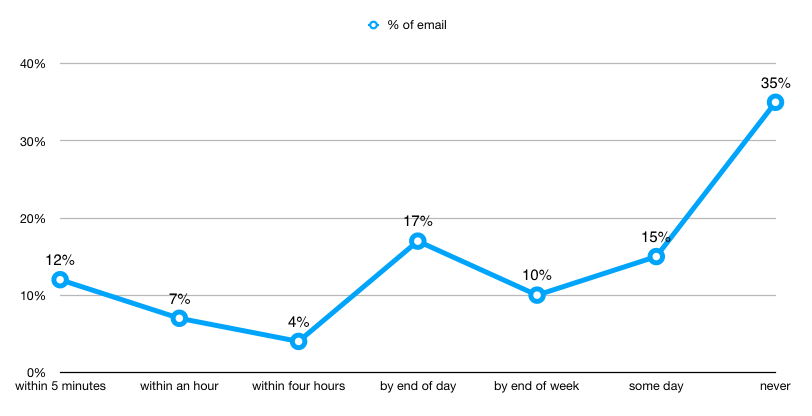 ---
Quote of the Day
The story of meritocracy in U.S. culture is a dominant narrative that provides ready explanations for who gets ahead in organizations, who doesn't, and why. The accepted story is "people who try hard and have the capability will get ahead." The converse is, of course, implicit: "Those who don't get ahead must not be as able or hard working as those who do." The story of meritocracy justifies a wide range of existing organizational arrangements, including organizational hiring, evaluation, and promotion systems, but it is so institutionalized within U.S. culture that its truthfulness is rarely acknowledged or challenged.
| Debra Myerson, from Rocking the Boat, cited by Jane Watson in Flexible Work and the Meritocracy Myth, in which Watson explains why flexible work arrangements fail in a low-trust workplace. A must-read.