Work Futures Daily | Myths Of One Kind Or Another
| Nick Hardaway | Eliot Peper | The Nobel Prize for the Future of Work | Platform Capitalism | Boomeranging | Diversity Lawsuits Help |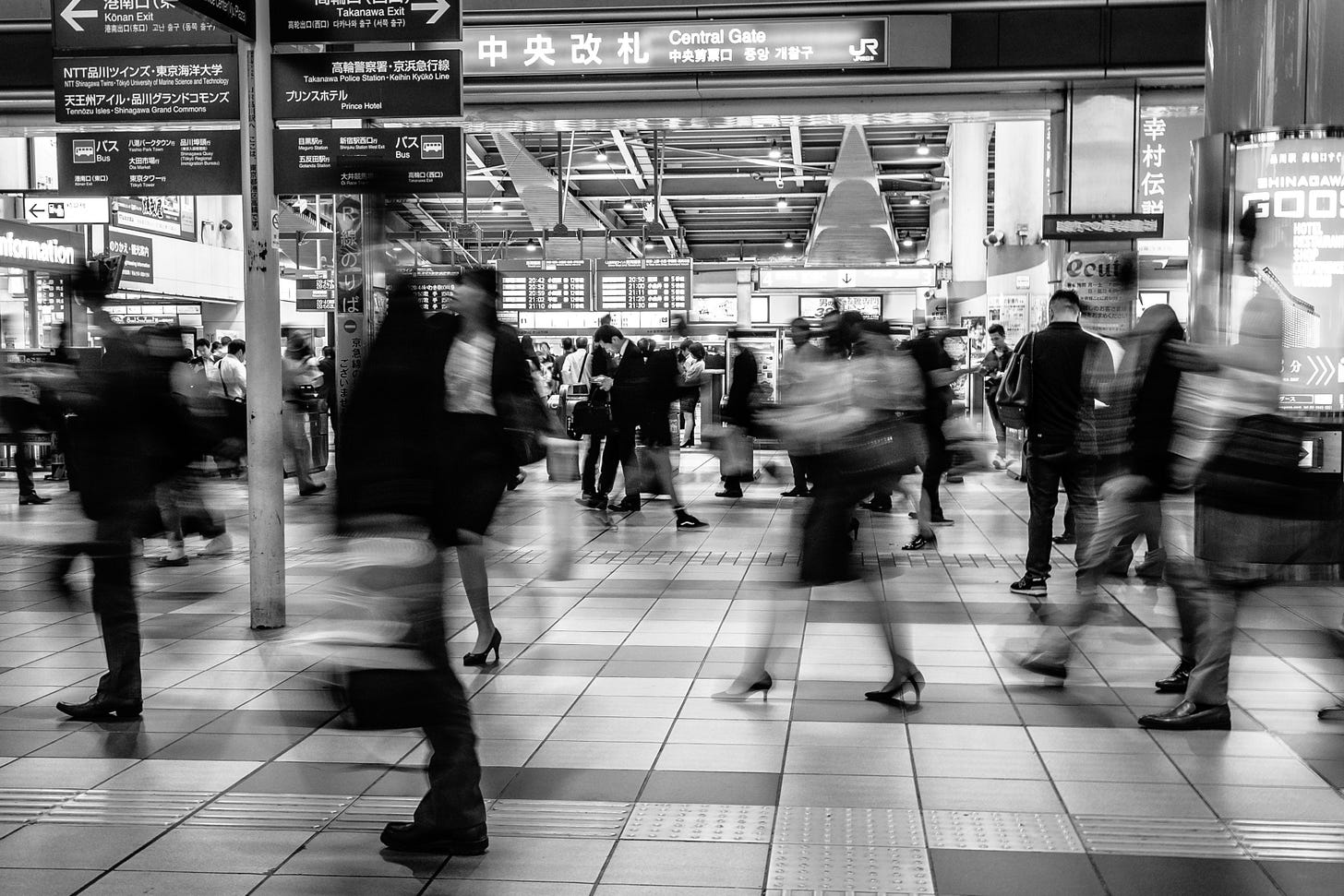 Beacon NY | 2019–11–17 | I have been ridiculously busy, so much so that I created a spreadsheet to model the impact on existing projects when a new project is being considered. I have blocked meetings and calls on Fridays and Mondays so I can have large blocks of time to work. (Don't tell anyone, or that won't work, because the only acceptable excuse for not accepting a call or meeting is that you're already booked for a call or meeting. Your time is not your own.)
Needless to say, WFD has been the most obvious casualty of this busyness. I won't make promises, but I am going to try a new approach of posting everyday, seven days a week, even if the posts are tiny.
:::
I'm adopting a convention that the title of WFD will be based on the Quote of the Day, so I won't have to mention it.
---
Quote of the Day
As information technology and brain science begin to unpick our decision-making and it is revealed that the premise of democracy and capitalism — our ability to make decently sensible decisions — turns out to be radically flawed? What happens as all our certainties are revealed to be myths of one kind or another?
| Nick Hardaway, from An Interview with Nick Harkaway: Algorithmic Futures, Literary Fractals, and Mimetic Immortality| Eliot Peper
---
Readings
Three Nobel Prize Winners On The Future Of Work | Bram van der Lecq of The Corporate Rebels reviews the presentations by three Nobel economics laureates at the 2019 RenDanHeYi forum in Shanghai: Eric Maskin, Oliver Hart, and Bengt Holmström, plus W. Brian Arthur, the economist who pioneered complexity economics. Go read the whole thing.
:::
"Sharing economy" is merely a euphemistically designated aspect of a new digital economic order: platform capitalism | Sascha Lobo coins a new term:
The problem with the "sharing economy" is not a disgusting start-up like Uber. It is the transformation of the digital economy into platform capitalism and the lack of preparation of politics and society for it. Platform capitalism is changing the concept of work, the gray area between private help and moonlighting, the understanding and regulation of monopolies .
Massively important essay introducing platform capitalism.
:::
Why Workers Are Leaving Jobs for Companies They Used to Work for, According to a LinkedIn Executive | Wanda Thibodeaux interviewed Brendan Brown, LinkedIn's VP of Talent Acquisition, about 'boomeranging' — returning to a previous company after leaving:
Businesses are seeing past hires as a strong talent pool to recruit from and re-engage. After all, these people already have a strong foundational knowledge of the companies, and the new experiences, skills and connections they bring back can have enormous value.
:::
Poll: 66% of workers say offices will disappear by 2030 | Valerie Bolden-Barrett reports on a Zapier survey on remote work:
Seventy-four percent of U.S. workers said they're ready to quit their jobs for one that lets them work from anywhere, and 66% believe the physical office will be obsolete by 2030, a new Zapier survey showed. The study of 880 knowledge workers, conducted online by The Harris Poll, also found that 95% of respondents want to work remotely.

In other survey results, 31% of respondents want to work remotely, but their employers don't offer the option, and 26% have quit a job for one that lets them work from any location. The top five reasons respondents gave for wanting a remote-work option were to: save money; work anywhere; have time with family; be more productive at home; and maintain mental health.

Women value remote work benefits more than men, but it's less likely women will have access to the perks, the study found.
:::
Do Lawsuits Improve Gender and Racial Equality at Work? | Elizabeth Hirsch lays out the findings on research into the impact of lawsuits on diversity, and the skinny is that they do so long as there is media coverage involved:
Overall, we found that lawsuits did have equity-enhancing effects: Regardless of whether it involved sex, race, color, or national origin, a discrimination lawsuit produced measurable gains in managerial representation for all three of the groups we studied. In the three years following a lawsuit's resolution, the percentage of white women in management increased, on average, from 18.7% to 21.8%; black women from 2.1% to 2.3%; and black men from 3.0% to 3.4%. Though these changes are small in absolute terms, they indicate gains of 10% for black women and 13% for black men — which are significant given the low representation of these groups in management. All of these changes were statistically significant, meaning they were not due to chance and could be attributed only to the lawsuit, not to other things going on in the company or economy.

But the conditions of the legal resolutions mattered considerably. We found that the impact of lawsuits varied depending on whether shareholders and the national media took notice and by whether the resolutions brought monetary payouts or additional pressures for change, including policy change mandates.