Work Futures Daily | Radical Inclusivity
| Google Woes, Times Three| Why won't out-of-work men do 'women's work'? | Hard Work v Soft Work | Barbara Ransby |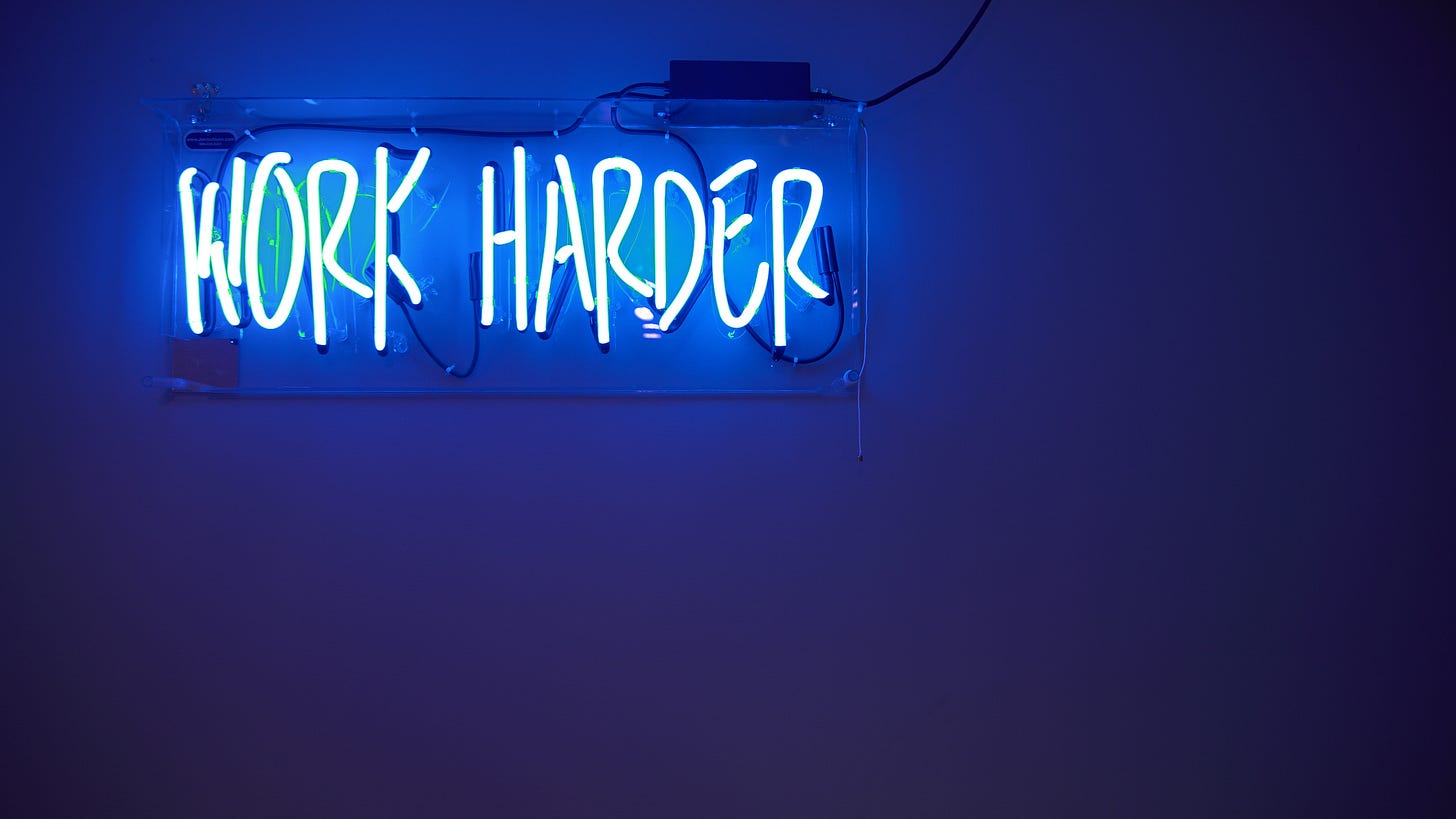 source: Jordan Whitfield
Beacon NY — 2019–08–08| This is the last Work Futures Daily for a while. I am headed to Shelter Island next week for some semi-downtime, and while I plan to do some writing I won't be Dailying. You'll see a Weekly this weekend and I'll return 21 August.
:::
If you are receiving this you've probably signed up for the Work Futures Daily newsletter. You can sign up here for a free subscription. Support our work by becoming a sponsor, here. Or become a follower on Medium, here. Drop a few bucks in the hat, here, if you'd like to support our work on a one-time basis.
:::
Our new publication, On The Horizon, is dedicated to help spread greater understanding of the economics, structure, and behavior of platform ecosystems, and the corresponding reordering of business operations and organization. Sign up for the OTH weekly newsletter to be notified about new articles, interviews, events, and other news from the exploding domain of platform ecosystems.
---
Stories
Google's in a tough patch.
…
Google Employee Alleges Discrimination Against Pregnant Women in Viral Memo | Lorenzo Franceschi-Bicchierai and Jason Koebler report:
A memo written by a Google employee that accuses the company of discriminating and retaliating against her for being pregnant has been seen by more than 10,000 employees at the internet giant, Motherboard has learned.

Last week, the woman posted the memo, titled "I'm Not Returning to Google After Maternity Leave, and Here is Why," to an internal company message board for expecting and new mothers. The memo was reposted to other internal message boards and has since gone viral, multiple current Google employees in different parts of the company have told Motherboard. Since then, employees have been posting memes that have gathered thousands of likes. The memes were made in support of the woman on an internal message board called "Memegen."

[…]

"I documented what my boss was saying and reached out to HR to ask for help in navigating the situation. It was shared that others had reported my manager behaving inappropriately and that feedback had already been given to her. I was told my comments might be shared directly with my boss, but not to worry because strong measures are in place at Google to prevent retaliation," she wrote. "Almost immediately upon my discussions with HR, my manager's demeanor towards me changed, and drastically. I endured months of angry chats and emails, vetoed projects, her ignoring me during in-person encounters, and public shaming."
On her last days before taking maternity leave, she was told she did not have a management job on return, and was encouraged to look for other jobs within Google.
…
Senators Urge Google to Give Temporary Workers Full-Time Status | Daisuke Wakabayashi relates the push by US Senators to get Google to drop its two-tier scheme:
A group of Democratic senators has demanded in a letter sent to Google's chief executive, Sundar Pichai, that the internet giant convert its more than 120,000 temporary and contract workers to full-time employees.

The letter, written by Senator Sherrod Brown of Ohio, also urged Google to stop its "anti-worker practices" and treat everyone at the company equally.

"Making these changes to your company's employment practices will ensure equal treatment of all Google workers and put an end to the two-tier employment structure you have perpetuated," Mr. Brown wrote. Among the 10 senators who signed were three running for president: Kamala Harris, Bernie Sanders and Elizabeth Warren.

As of March, Google had more temporary workers than full-time employees — 121,000 temps and contractors and 102,000 full-timers, according to company data viewed by The New York Times.

The senators' letter, which was sent last month, cites a May article by The Times that explained how Google had created a shadow work force of temps, contractors and other contingent workers brought in through staffing companies.

The senators pushed for a number of changes to how the company treats temps and contractors, including moving them to full-time status after six months as well as equalizing their wages and benefits with permanent staff.

While many of the temps and contractors sit in the same offices as Google employees and often do similar work, they usually make less money, have significantly worse benefit plans and do not enjoy the same rights.
…
Oh, and Trump has turned his baleful gaze on Google, too.
:::
Why won't out-of-work men do 'women's work'? | I wrote this a few years ago as a response to an article by Susan Chira, and I summarized:
Men displaced from manufacturing and other traditionally male jobs won't move into heath care, teaching, or administration, traditionally female jobs.
Chira reported:
Ofer Sharone, an assistant professor of sociology at the University of Massachusetts, Amherst, has studied middle-aged white-collar professionals who have lost their jobs. He found that some men who might have been willing to consider lower-paid jobs in typically feminine fields encountered resistance from their wives, who urged them to keep looking.

[…]

Men can also face resistance from their female peers. Jason Mott, an assistant professor of nursing at the University of Wisconsin-Oshkosh, said some of his male students were teased by their female classmates. "They feel they need to really express their manhood, stressing the athletics they take part in," he said.

Nursing offers a perplexing case study. In theory, nursing should appeal to men because it pays fairly good wages and is seen as a profession with a defined skill set. Yet just 10 percent of nurses are men, despite "Are You Man Enough … to Be a Nurse?" posters and other efforts to enlist men.

The hope is to focus on millennials who may be less bound by notions of traditional masculinity, said Brent MacWilliams, president of the American Assembly for Men in Nursing and a former commercial fisherman who is now an associate professor of nursing at Wisconsin-Oshkosh. He has seen more men apply to nursing schools, but he acknowledges his group will fall short of its goal of 20 percent male nurses by 2020.
:::
Another story I am pulling from the mothballs, and which is still relevant:
Poking in the Shadows: What about 'Hard Work'? | We have to stop treating blue-collar work as an edge case
The great majority of the time, in the discourse about the future of work, we focus almost exclusively on the full-time managerial/professional/creative class, and exclude other groups from consideration, except as numbers in spreadsheets. So, freelance professionals and creatives — a growing population, perhaps 25% or more of the working population — are treated as an edge case, or as if they were indistinguishable from their full-time colleagues.

But the biggest edge case of all may be the working class, who are often involved in what I have called 'hard work' in the past: physical labor, like carpenters hammering nails, health care aides lifting patients from one bed to another, assembly line workers installing dashboards in a car factory, or waiters running meals from the kitchen to the front of house. Some of their jobs involve cognitive skills, similar to the 'soft work' of knowledge workers tapping their keyboards, but they may do their thinking standing up, with tools other than keyboards in their hands. They are the janitors cleaning the marble floors in the lobby when you come early to work, the security guards checking your badge at the elevators, and the folks wheeling in the sandwiches for a working lunch.

And much of their work is routine, which is a stark contrast to the trends for 'soft workers', where a premium is placed on creativity (at least conceptually), self-expression and innovation: the earmarks of 'disruption'. This may put 'hard workers' at odds with the prevailing norms of today's business culture.
---
Quote of the Day
Radical inclusivity means that people from different communities, backgrounds and ideological traditions will do their jobs differently and will bring new sensibilities, commitments and understanding with them when they sit at the tables of power.
| Barbara Ransby, 'The Squad' Is the Future of the Democratic Party
The same dynamic is likely for business, too. Going forward, we should expect people to act as 'defiant and unapologetic voices of the communities that produced them', not just additional voices in the choir, singing the same old tunes, and simply 'adding color to the room'.
---
Elsewhere
Deadly Germ Research Is Shut Down at Army Lab Over Safety Concerns | Closing famed Fort Detrick? Sounds like the opening scene of a terrifying bio-apocalypse movie.
Safety concerns at a prominent military germ lab have led the government to shut down research involving dangerous microbes like the Ebola virus.

"Research is currently on hold," the United States Army Medical Research Institute of Infectious Diseases, in Fort Detrick, Md., said in a statement on Friday. The shutdown is likely to last months, Caree Vander Linden, a spokeswoman, said in an interview.

The statement said the Centers for Disease Control and Prevention decided to issue a "cease and desist order" last month to halt the research at Fort Detrick because the center did not have "sufficient systems in place to decontaminate wastewater" from its highest-security labs.

But there has been no threat to public health, no injuries to employees and no leaks of dangerous material outside the laboratory, Ms. Vander Linden said.
:::
originally posted on Work Futures on Medium.