Work Futures Daily | The Train or The Track
| Emojis at Work? ⚠️ | Gig Economy Slowing? | Deglobalization | Elizabeth Spiers | Washless Clothes | Anonymization Myth |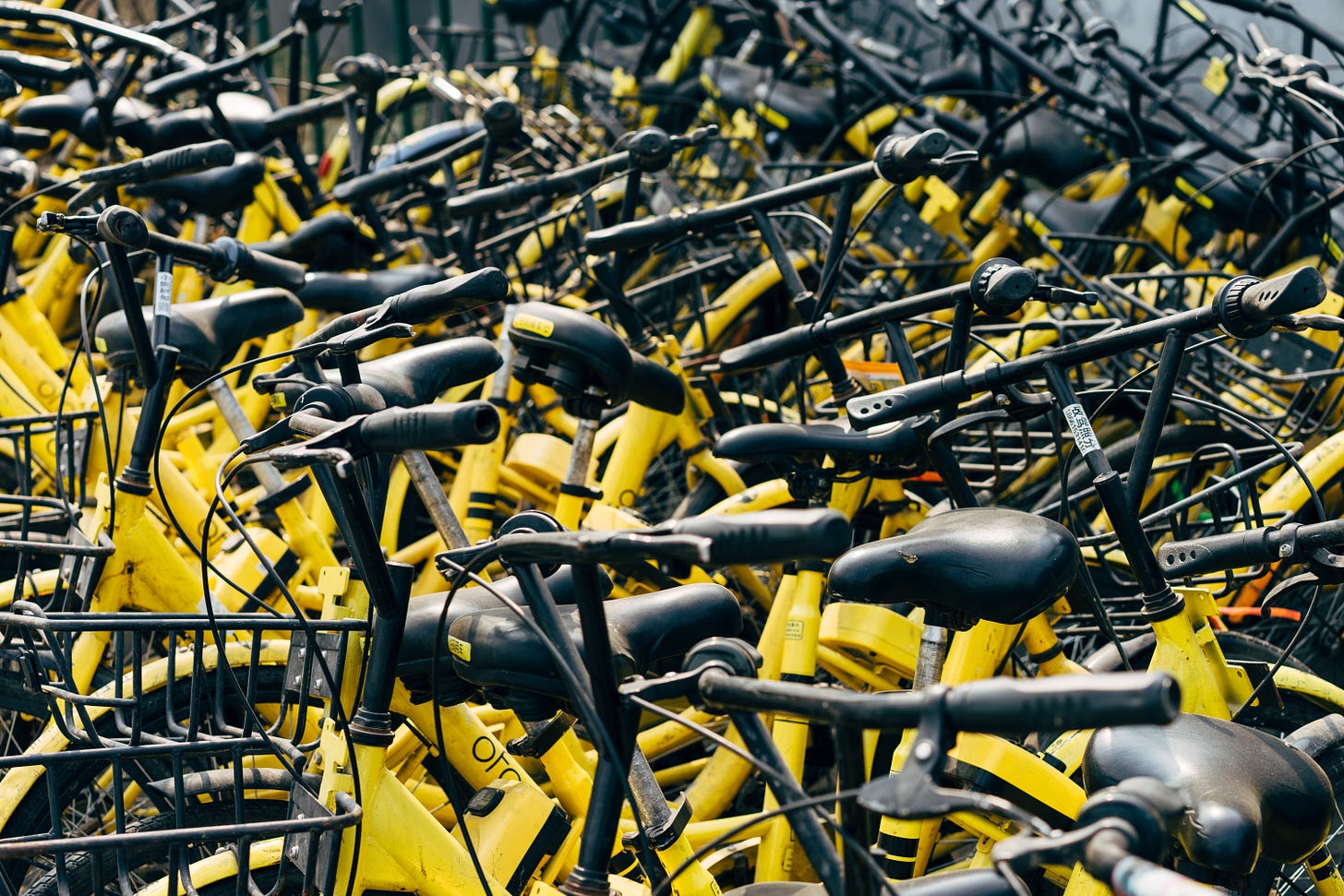 Beacon NY — 2019–07–24 | The title today is from Tom Siebel, quoted in the story on deglobalization, below.
:::
Got a lot of good feedback on the end of the experiment here, as I discussed yesterday. Also had some folks buy me baguettes on Kofi. Thanks.
Also, getting positive feedback from the editors at Medium. Yesterday's The Starting Point and The Bottom Line for The Gig Economy was selected for the Work topic page. Recently, The OECD Skills Outlook 2019: Too Aspirational was selected for the Economy page.
:::
If you are receiving this you've probably signed up for the Work Futures Daily newsletter. You can sign up here for a free subscription. Support our work by becoming a sponsor, here. Or become a follower on Medium, here.
:::
Originally posted on Medium.
:::
Our new publication, On The Horizon, is dedicated to help spread greater understanding of the economics, structure, and behavior of platform ecosystems, and the corresponding reordering of business operations and organization. Sign up for the OTH weekly newsletter to be notified about new articles, interviews, events, and other news from the exploding domain of platform ecosystems.
---
Stories
Yes, You Actually Should Be Using Emojis at Work| Christopher Mims reports on new research stating emojis are safe for work:
In a just-published paper, researchers from Colombia describe how electrical activity in the brain indicates that we process emojis in the same areas of the brain where we process faces. The key is that emojis often include the most salient features for visually conveying human emotion — eyes, mouths, sometimes eyebrows.

"In computer-mediated communication, I don't see your face, but when you send to me an emoji, my brain generates a similar response as when I can see you," says Carlos Gantiva, a professor in the department of psychology at Universidad de los Andes and an author of the paper.

[…]

Ying Tang and Khe Foon Hew, researchers at the University of Hong Kong who study business communications, reviewed 50 studies on the use and impacts of emojis in communication and found that, on balance, proper use of emojis helps people form relationships and understand one another.

[…]

The utility of emojis is not an excuse to use them willy-nilly. If you don't know the local emoji parlance, attempting to use one can make you seem unserious and damage your subsequent ability to collaborate with others, says Ella Glikson, a researcher at Carnegie Mellon University. With her collaborators, Dr. Glikson found that using emojis in initial communication with unfamiliar people could even make you appear less competent.
⚠️
:::
A shift in the gig economy | The American Economics Association presents their chart of the week:
A paper in AEA Papers and Proceedings digs into banking data to better understand how digital marketplaces are transforming our financial lives. Authors Diana Farrell, Fiona Greig, and Amar Hamoudi use anonymized data from 2.3 million distinct Chase account holders to study the online platform economy.

Transportation dominates, both in the number of participants and total transaction volume. And yet, individual users appear to be earning less per month from driving people around.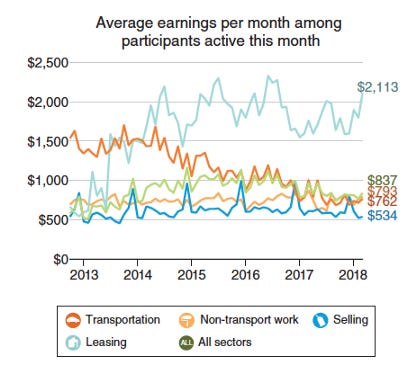 It appears that drivers are driving less, perhaps because in a tight labor market they can do better elsewhere.
:::
Investing in the age of deglobalisation | I agree with much of Rana Foroohar's diagnosis of deglobalization, but I wonder about her prognosis on the fall of the FAANGs and the rise of China:
We all know that globalisation is under threat. Figures compiled by the Swiss Economic Institute show that globalisation peaked and began plateauing several years before the current trade wars began. The current headwinds to it — from lower cross-border capital spending to the localisation of supply chains due to populism, tariffs and the push for national champions — are not going away anytime soon.

So the smartest capitalists have begun to rethink their fundamental theories of investing for a new age: the age of deglobalisation. Some of the new rules are obvious — bigger may not be better. A recent JPMorgan report on deglobalisation shows that there has been a very tight correlation between cross-border trade intensity and US corporate profit margins over the past 20 years. Large-cap companies in particular "have greatly benefited from locating labour, factories and resources in countries with the most beneficial wage costs, taxation, regulations and infrastructure".

That correlation is now breaking down as trade becomes increasingly fractious. Technology will be the chief battlefield on which the trade wars and political conflicts of the future will play out. Consider the recent headlines on that score, including more US-China squabbles over the Chinese tech group Huawei; the EU's opening of an antitrust case against Amazon and possible fines for Qualcomm; and G7 struggles to agree on a system of digital taxation.

The most globalised tech stocks, which dragged the market up in recent years, will also lead it down. The recent setbacks for the Faangs (Facebook, Amazon, Apple, Netflix and Google's parent Alphabet) is one sign, but there are many subtler and more telling examples of what is to come.
My bet is that we are transitioning to a platform economy, where the FAANGs have already taken the point position, and have disrupted most markets, like media, advertising, commerce, computing, and everything else. Even if the deglobalization trend plays out, platform economics will still be at the heart of the next era. If Europe levies a tax on the FAANGs, that won't end all the network effects of exponential scaling: it only changes the price to participate.
I like this quote from Tom Siebel, who is on a publicity tour for his new book, Digital Transformation:
We are in a mass extinction event. You have companies with new DNA filling the voids in the ecosystem. You have Amazon rolling everyone. If you are Walmart, you are looking down that barrel of a gun. You are in a world of hurt.

It's either you're on the train or you're on the track.
Foroohar looks in the crystal ball, and sees the policy gap between the US and China shifting the balance of where new investments may go:
China's gravitational pull will also bolster commodities markets. The Chinese need oil — hence Beijing's increasing involvement in the Middle East, and cozy relations with Russia, where both bonds and equities are outperforming. Commodities will be one of the few markets insulated from deglobalisation, as they will be driven primarily by the growth of the emerging market middle class. The new era belongs to this demographic, not to US multinationals.
I'm betting on the platform economy, and not the rise of the Chinese middle class. Just look what happened to the US middle class in the past 30 years.
---
Quote of the Day
When people do inexplicable things, it's always tempting to project qualities onto them that would offer a more innocuous explanation of their behavior than bad judgment, fecklessness, or stupidity.
| Elizabeth Spiers, Why Nancy Pelosi Won't Impeach
---
The Next Big Thing in Fashion? Not Washing Your Clothes. | Elizabeth Segran reports on a new trend: clothes that don't need to be washed very often.
I have a confession to make: I've been wearing the same black T-shirt every single day for two weeks now and I haven't washed it yet. Anybody who knows me will realize this is very out of character. I'm a laundry addict. I get inordinate pleasure out of transforming my toddler's mud- and applesauce-covered clothes into freshly laundered, neatly folded piles. And yet, I may hold off on washing this T-shirt for another few weeks. It miraculously looks (and smells!) like it was just cleaned. This $65 T-shirtis made by a startup called Unbound Merino, founded in 2016, that creates wool travel clothes that can go weeks without being washed.

Unbound is part of a broader wave of startups designing clothes that require less laundering. An eco-friendly brand called Pangaia, which launched late last year and already counts celebrities like Jaden Smith and Justin Bieber as fans, creates $85 seaweed fiber T-shirts that are treated with peppermint oil to keep the shirts fresher longer between washes. The brand estimates that this will save about 3,000 liters of water over the course of a lifetime, compared to a regular cotton T-shirt. Then there is menswear label Wool & Prince, which creates everything from $128 oxford shirts to $42 boxer briefs out of wool, all designed to be washed infrequently. Last year, the company launched a sister womenswear brand called Wool& that makes dresses that can be worn for 100 days straight without washing.

This new flock of wash-less brands are capitalizing on the convenience of not having to launder your clothes a lot, which is particularly useful if you're traveling or crunched for time. But they're also making an environmental argument: Over-washing clothes is not good for the planet. Washing machines account for 17% of our home water usage, and a quarter of a garment's carbon footprint over the course of its lifetime comes from cleaning it. And yet, washing machine company AEG estimates that 90% of clothes washed aren't actually dirty enough to be thrown in the laundry basket.
I am switching over once I finish my weight loss trajectory.
:::
Your Data Were 'Anonymized'? These Scientists Can Still Identify You | There is no Santa Claus, and no such thing as anonymized data:
Scientists at Imperial College London and Université Catholique de Louvain, in Belgium, reported in the journal Nature Communications that they had devised a computer algorithm that can identify 99.98 percent of Americans from almost any available data set with as few as 15 attributes, such as gender, ZIP code or marital status.

Even more surprising, the scientists posted their software code online for anyone to use. That decision was difficult, said Yves-Alexandre de Montjoye, a computer scientist at Imperial College London and lead author of the new paper.

[…]

This not the first time that anonymized data has been shown to be not so anonymous after all. In 2016, individuals were identified from the web-browsing histories of three million Germans, data that had been purchased from a vendor. Geneticists have shown that individuals can be identified in supposedly anonymous DNA databases.

The usual ways of protecting privacy include "de-identifying" individuals by removing attributes or substituting fake values, or by releasing only fractions of an anonymized data set.

But the gathering evidence shows that all of the methods are inadequate, said Dr. de Montjoye. "We need to move beyond de-identification," he said. "Anonymity is not a property of a data set, but is a property of how you use it."