Work Futures Update | An Awful Lot Of Unraveling
| 10–4 | Flattening the Work Curve | Managers Mind | The End of HQ | Shorting Real Estate | The Square |
2020–05–12 Beacon NY | While organizations are starting to think about how to start coming back to the office, a critical aspect is a strategy to decrease the likelihood of outbreaks. Social distancing and face masks will not be adequate in the absence of significant testing. However, a group of researchers in economics and biology — Uri Alon, Ron Milo and Eran Yashiv — have an alternative that they published in 10–4: How to Reopen the Economy by Exploiting the Coronavirus's Weak Spot:
We can find a way out of this dilemma by exploiting a key property of the virus: its latent period — the three-day delay on average between the time a person is infected and the time he or she can infect others.

People can work in two-week cycles, on the job for four days then, by the time they might become infectious, 10 days at home in lockdown. The strategy works even better when the population is split into two groups of households working alternating weeks.

Austrian school officials will adopt a simple version — with two groups of students attending school for five days every two weeks — starting May 18.

Models we created at the Weizmann Institute in Israel predict that this two-week cycle can reduce the virus's reproduction number — the average number of people infected by each infected person — below one. So a 10–4 cycle could suppress the epidemic while allowing sustainable economic activity.

Even if someone is infected, and without symptoms, he or she would be in contact with people outside their household for only four days every two weeks, not 10 days, as with a normal schedule. This strategy packs another punch: It reduces the density of people at work and school, thus curtailing the transmission of the virus.

Schools could have students attend for four consecutive days every two weeks, in two alternating groups, and use distance-learning methods on the other school days. Children would go to school on the same days as their parents go to work.

Businesses would work almost continuously, alternating between two groups of workers, for regular and predictable production. This would increase consumer confidence, shoring up supply and demand simultaneously.

During lockdown days, this approach requires adherence only to the level of distancing already being demonstrated in European countries and New York City. It prevents the economic and psychological costs of opening the economy and then having to reinstate complete lockdown when cases inevitably resurge. Giving hope and then taking it away can cause despair and resistance.
10–4 is the future.
---
Quote of the Moment
Despite the commute and the colleagues, the sitting and the stale meetings, offices bring many of us something else too: joy. Lucy Kellaway, who wrote a long-running column in the Financial Times on the absurdities of office life, talks of the "great artificiality" we embrace the moment that we step into an office. "We pretend that our clothes are always in order and that we are entirely professional and impersonal. Whereas probably in our heads and definitely in our homes there is an awful lot of unravelling and farting going on."

[…]

Humans need offices. Online encounters may be keeping us alive as social beings right now, but work-related video meetings are too often transactional, awkward and unappealing. After the initial joy of peering into each other's houses on Zoom, we are confronted with people's heads looming even closer than we see them across the desk at work, and we gaze in horror — half of it self-awareness that we, too, must look awful — at thinning hair and double chins. We become freakish specimens rather than people. No Skype chat can replicate what Heatherwick calls the "chemistry of the unexpected" that you get in person. Offices may not fill the pages of poetry anthologies but, says Kellaway, they "can be as moving as anywhere on Earth. Because what moves us is not sitting at our computer, it's the relationship that we have with people."
| Catharine Nixey, Death of the office
It's a romantic ideal in Nixey's world perhaps, but I think the fear of touching elevator buttons or riding on public transit injects a strain of Albert Camus' The Plague into the near-future workplace.
---
Work Unleashed — Where, When, and How We Work is Changing | Box analyzed a bunch of anonymized data and potted out how dramatically work is changing in the postnormal: We're flattening the work curve.
Our Data Science team analyzed a massive set of completely anonymized data from usage patterns around Box. So far, they've learned that while this transformation is playing out differently in various industries and regions, a clear picture is forming:

1. The workday is changing. People are shifting more work outside of the normal 9 a.m. to 5 p.m. business day. WFH introduces flexibility into the day, plus we're all juggling childcare and other home responsibilities.

2. Digital collaboration is increasing. Document sharing and collaboration have increased as dispersed workers and teams find new ways to connect and move projects forward.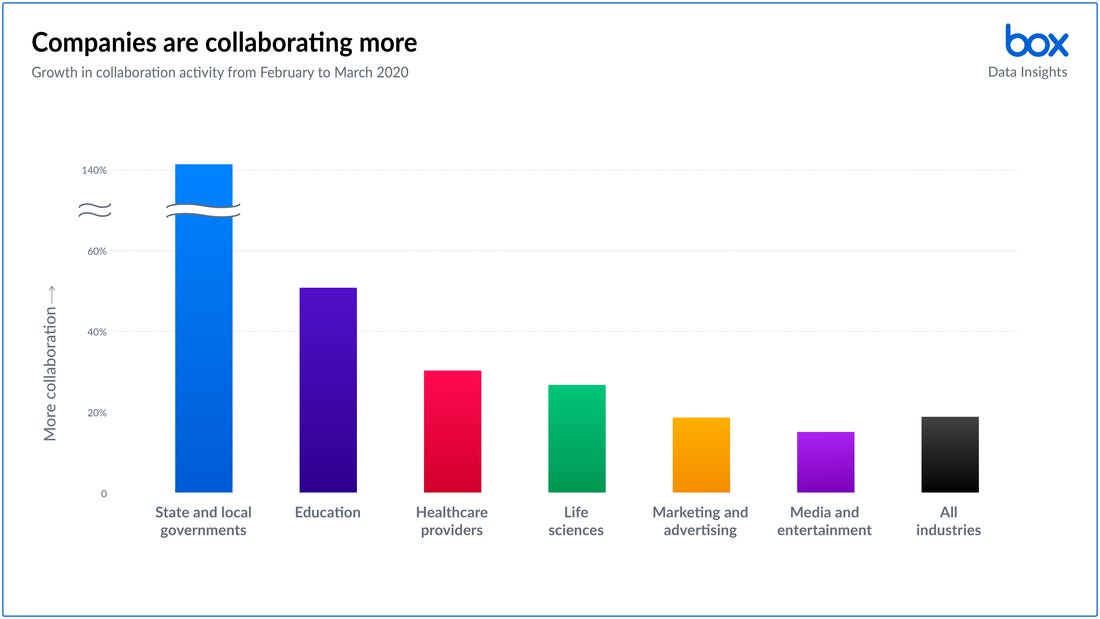 3. We're using more apps, and we're using them together. We're all using video conferencing, chat, and messaging apps for real-time collaboration, and we're all using cloud file sharing tools. But we're also seeing people use these tools together more than ever as we settle into our own new virtual work habits.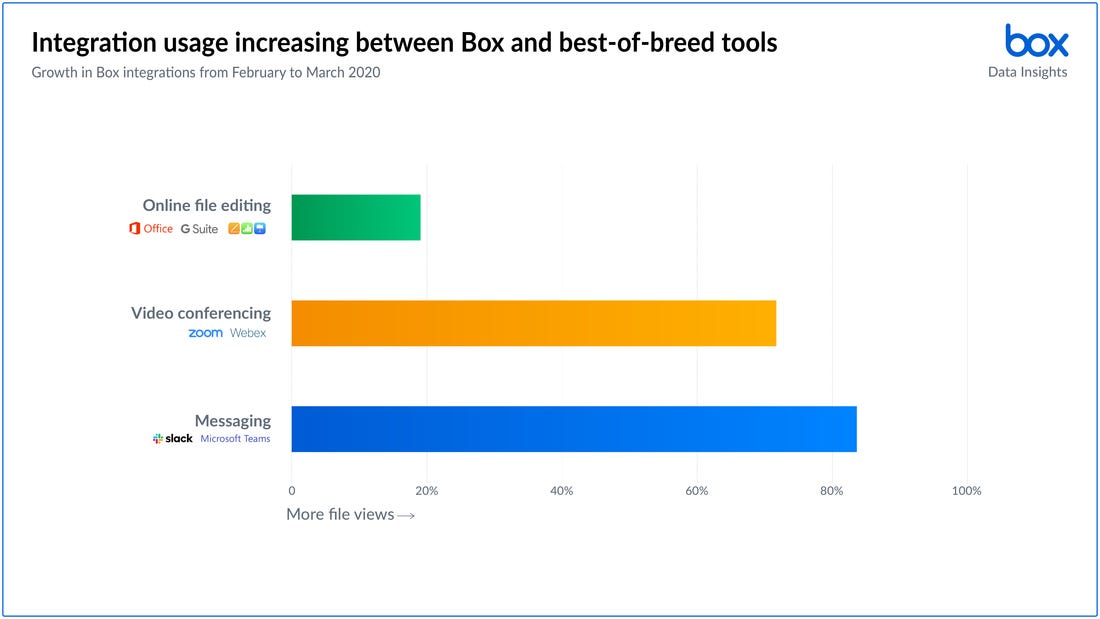 :::
Everyone Seems Okay With Remote Digital Collaboration, Except Maybe Managers | Joe McKendrick zooms in on managers' difficult adjustment to remote work:
Two-thirds of U.S. workers say their quality of worklife has improved amid the recent COVID-19 disruptions. However, managers and executives are having a tougher time with things.

That's the word from a survey of 1,000 employees and managers, conducted in April by KPMG, based in New York, which finds that 64 percent of workers say their quality of work has actually improved amid the disruptive impact of COVID-19. They report greater collaboration (70 percent) and that their team has effectively adapted to working together (82 percent) during this time.

Fifty-nine percent indicate that they had adequate resources to do their job remotely, and they also reported that their team is effectively using technology to communicate (87 percent).

However, those in management reported having a harder time adapting in comparison to non-management respondents, the KPMG survey shows. Managers are more likely to state their jobs are more demanding now (67 percent of managers versus 50 percent of staff employees), work/life balance is more difficult (55 percent versus 47 percent), and work is overwhelming (63 percent versus 39 percent).

[…]

Nonetheless, 40 percent of workers in the KPMG survey say they were left to navigate changes with inadequate resources. Among those who transitioned to working remotely, the most commonly cited challenges, after caring for children, are not having a workspace or desk and not having access to shared folders or collaboration tools.
Not that the 40% did not say they miss their managers. They miss their desks.
:::
Major companies talking about permanent work-from-home positions | Adedayo Akala summarizes various announcements:
Mondelez' CEO said this week the coronavirus crisis has showed "we can work in different ways," and as a result, the company does not need all its global offices.

Nationwide, which has gone to 98% work from home during Covid-19, announced a permanent transition to a hybrid model, with working-from-office in four main corporate campuses and working-from-home in most other locations.

Barclays CEO Jes Staley said crowded corporate offices with thousands of employees "may be a thing of the past."

[…]

Morgan Stanley CEO James Gorman is uncertain about what work life will look like after the pandemic but said the bank would need "much less real estate" in the future. About 90% of Morgan Stanley's employees have been working from home during the pandemic.
…
In a related note: Icahn reveals his biggest short position: Commercial real estate. The crash of value in commercial real estate a few months ago was malls. But now, it's going to wind up being corporate offices.
---
Sorry Zoom, this magic interface is the ultimate video chat | Mark Wilson explores the concept of the Square, an 'artificial window' into a virtual office:
The design firm Argodesign has created a concept called the Square. It's an artificial window, created from an LCD screen that goes on the wall next to your desk. When you raise the shade, you can see a coworker, or two, working right there next to you. You can strike up a conversation, or ignore them. You can gossip, or hold a productive meeting. Just like a real office.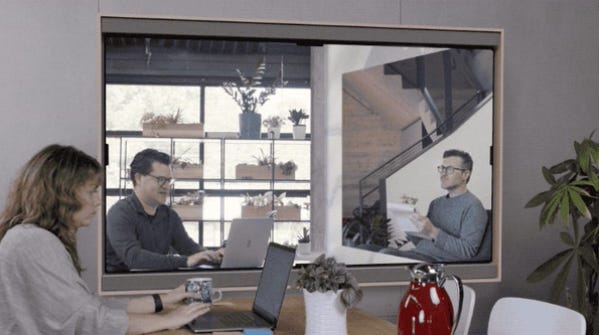 The Square
[…]

Of course, it's easy to see the Big Brothery twist of owning such a device too. One wonderful thing about working from home is the option to go on a walk around the block or wear sweats without getting the eye from a peer or a manager. The Square would put you back on display, just as you are in a real office. This is a valid criticism. But then again, Zoom culture is already demanding a lot from us by activating cameras in our homes. At minimum, the Square could live in a fixed place, at a fixed angle, that would set up boundaries in your home as to where is work, and where is walk-around-without-pants-on space. Just be sure to pull down that shade when the day is done — just in case.
---
Elsewhere
Communications in a Time of Uncertainty | Uncertainty needs to be countered by clarity, which is now the pandemic imperative for corporate communicators.
A Prospectus | Collaborative Whiteboards | When you can't pull people into a conference room and scribble on a whiteboard
Work Week | More Time To Think | ThinkingTime | Dropbox Profitable | Post-Pandemic Playbook | Google Unifying Communications |