Work Futures Update | Maturity of Mind
| The end of the Open Office Plan? | Nobl Advice | qdo | Militancy at Work | 10 More Tricks to Appear Smart in Meetings |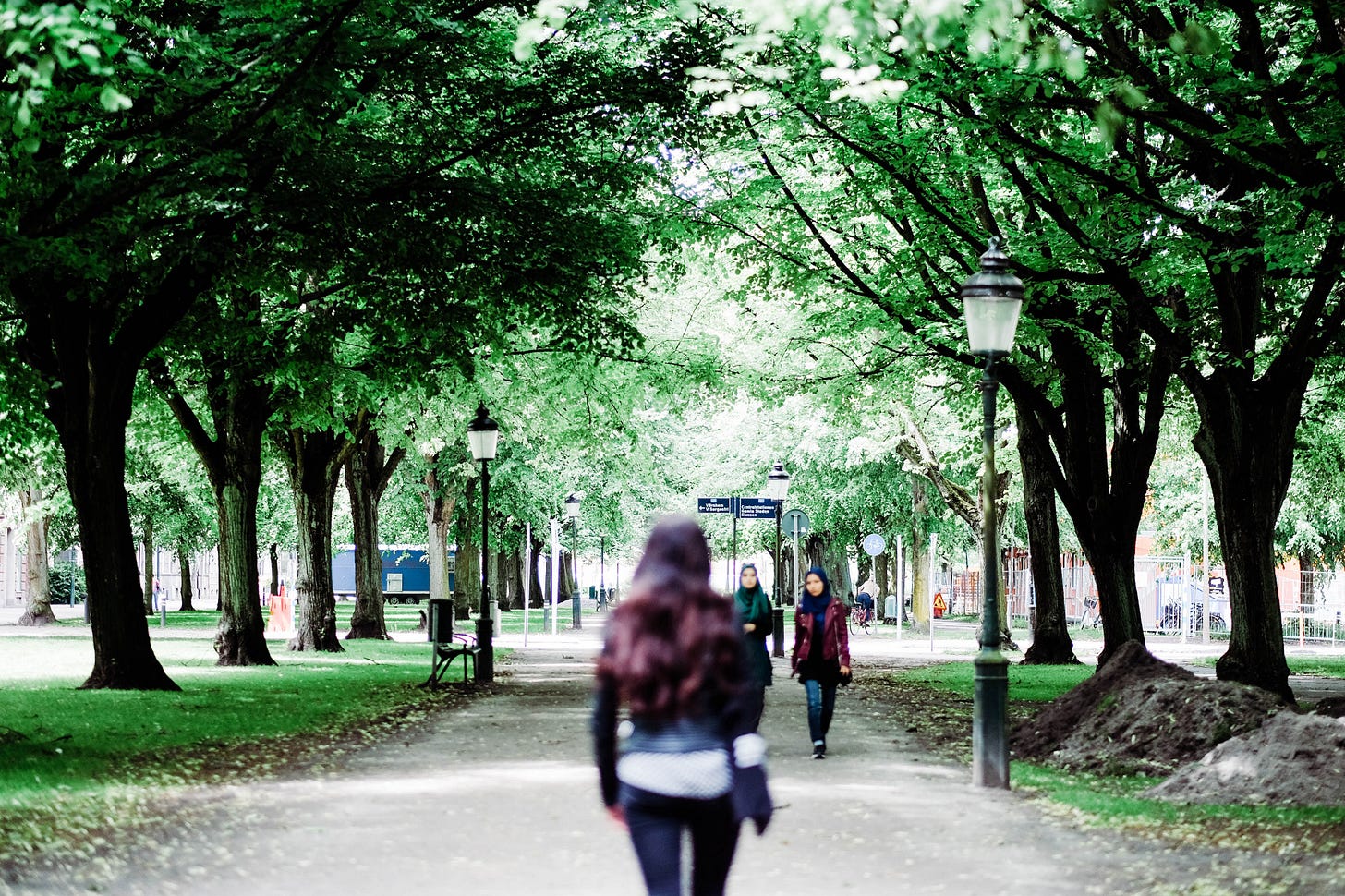 Photo by Charley Litchfield on Unsplash
2020–05–04 Beacon NY | We finally have warm weather after weeks of rain, gloom, and a windstorm that felled many trees, hereabouts. It's more crowded out in the streets, and walking around is a social occasion, not just exercise and decobwebbing my brain. I find that I walk similar routes each day, and find the same people on their porches, gardening, or playing with their kids. We wave, exchange a few words, and I move along.
I feel like I have moved to a different country, or an earlier time, when things were slower, and people were more connected to their neighbors. Maybe there is at least a hint of an upside.
---
Quote of the Moment
Maturity of mind is the capacity to endure uncertainty.
| John Finley
---
WFH
The Pandemic May Mean the End of the Open-Floor Office | Matt Richtel suggests that when workers start heading back to the office, it won't be the office they left eight weeks ago:
The conversation about how to reconfigure the American workplace is taking place throughout the business world, from small start-ups to giant Wall Street firms. The design and furniture companies that have been hired for the makeovers say the virus may even be tilting workplaces back toward a concept they had been moving away from since the Mad Men era: privacy.

The question is whether any of the changes being contemplated will actually result in safer workplaces.
Then he decides to talk to office furniture companies, who really, really won't people to work in offices. But then he brings out an epidemiologist to conclude with the inevitable:
Another basic step to lower risk, Dr. [Lisa] Winston [an epidemiologist] said, is simply having "fewer people in a space."
Out with 'hoteling', shoulder-to-shoulder workers at long open tables, massive buffets, or working side-by-side on the whiteboard in tiny meeting rooms. Instead, masks all day, every day. Sneezeguards. No more shaking hands. More meetings out of doors.
And, maybe, out with the premise that we need to be in the office, at all:
In the end, the solution for many employers may not be to spend a lot of money on outfitting their new office spaces, but rather simply having many employees continue to work at home, as a way to accomplish two goals: keeping people safe and saving money.

This is the punchline of a story about the post-pandemic office makeover. In the name of safety, there is likely to be a long, hard look at money, too. In this case, the goals may go together like hand-in-protective-glove.

Moving to home offices "has worked really great," said Susan Stick, general counsel at Evernote, a maker of digital note-taking programs with 282 employees. "You can't put that genie back into the bottle."
…
What Culture Really Means in an Age of COVID. | Nobl offers some good advice:
For many organizations, the transition to working remotely was so rapid, teams never had a chance to land expectations and boundaries. That, plus the ability to Zoom at practically any hour, means that many employees are finding themselves mentally depleted by Tuesday, and burned out from staring at screens all day. Everything is a blur. Whether things are breaking or blooming, now's the time to:

Dedicate time to review and adjust your ways of working. Reset expectations and adjust team norms with our team charter and user manuals tools. These favorites help pressure-check when and how team mates can check-in on progress, align on how decisions get made, and what kind of meeting you really need. You can even try building a team calendar to set expectations on when people are available — you're not going to get it right immediately, but the more you practice having conversations about what you need as a team, the better you'll get at creating new norms together.

Get clear on what's driving changes in behavior. Many teams are seeing massive increases in productivity. Determine whether this is due to positive factors (e.g., fewer distractions in the work day) or negative ones (e.g., people working longer hours). As a general rule, you should investigate any significant swing in metrics within your organization.

As a leader, ask for help and ask "How can I help?" Knowing when to ask for help is a vital skill, and modeling that for your peers and team helps increase psychological safety across a team. It's critical for building a team's learning capacity, which is more important than ever. Leaders have outsize influence, so think about how you can model both vulnerability and the need to establish boundaries.
…
qdo | A Slack companion app for creating dnd (do not disturb) time slots, and queues messages during those periods. This fixes the async problem with Slack.
Do deep work without distractions

qdo (queue do) removes trade off between productivity and communication by allowing you to reserve time slots for deep focused work without interruption and allowing your team members to create tasks for you or ask you for help without distracting you.
:::
Militancy
Another Way the 2020s Might Be Like the 1930s | Jamelle Bouie looks at the labor militancy of the 'essential workers' at Amazon distribution centers, Instacart delivery drivers, sanitation workers, and grocery clerks, spiking up in the coronavirus crisis, and see the echoes of the 1930s, which led to a surge in unionization:
It's true these actions have been limited in scope and scale. But if they continue, and if they increase, they may come to represent the first stirrings of something much larger. The consequential strike wave of 1934 — which paved the way for the National Labor Relations Act and created new political space for serious government action on behalf of labor — was presaged by a year of unrest in workplaces across the country, from factories and farms to newspaper offices and Hollywood sets.

These workers weren't just discontented. They were also coming into their own as workers, beginning to see themselves as a class that when organized properly can work its will on the nation's economy and political system.

American labor is at its lowest point since the New Deal era. Private-sector unionization is at a historic low, and entire segments of the economy are unorganized. Depression-era labor leaders could look to President Franklin Roosevelt as an ally — or at least someone open to negotiation and bargaining — but labor today must face off against the relentlessly anti-union Donald Trump. Organized capital, working through the Republican Party, has a powerful grip on the nation's legal institutions, including the Supreme Court, whose conservative majority appears ready to make the entire United States an open shop.

The inequities and inequalities of capitalist society remain. American workers continue to face deprivation and exploitation, realities the coronavirus crisis has made abundantly clear.
…
When Journalists Become Workers | Aaron Freedman reports on the unionization wave in American journalism, which reached a crest on April 18 when Vox announced that it was not laying off workers:
Vox Media — the parent company of several properties including Vox.com, SBNation, and New York magazine — announced in an internal memo that 9 percent of its workforce would be furloughed from May to July, in addition to pay cuts and reduced work hours for many other employees. But there was also a rare silver lining: a guarantee of no layoffs through the end of July.

This concession didn't come from the largesse of the Vox C-suite, but days of negotiations with the Vox Media and New York magazine labor unions.
The efforts of organizers in journalist unions has changed the notion of professionals unionizing:
Unionization has had obvious effects on the material conditions of digital-media workers, who had been in precarious straits well before the pandemic thanks to the consolidation of advertising revenue by Facebook and Google. Demands for stronger severance and greater transparency about the financial need for cuts had already been key parts of many digital-media collective-bargaining agreements.

Now, amid the crisis, negotiations between management and WGA unions at Vice, Slate, and elsewhere are ongoing. "We're having real transparent, honest dialogue about how to handle a mutual problem," Lowell Peterson, the executive director of the WGA East, told me.

In more than a dozen interviews, digital-media workers and organizers described how unionizations have transformed skeptics into committed activists, and turned once siloed and atomized offices into genuine communities. The bargaining units, once laughed off, have become integral to the fabric of communal life in digital media, and an essential part of the identity of many members.

"I don't think I could have pictured the day-to-day camaraderie that existed because of the union," said Rafi Letzter, a staff writer for LiveScience and organizer for the union representing media workers at its parent company, Future. "A thousand HR Beer Thursdays don't have the same ability to create that."

As workers in other creative fields — from video game designers to museum guides to podcast producers — launch their own unionization campaigns, the successes of digital-media unions offer a path forward for organizing the nearly 60 percent of American workers who are professionals.
I feel a change a'comin'.
:::
Laughs
10 More Tricks to Appear Smart in Meetings | Sarah Cooper is hilarious: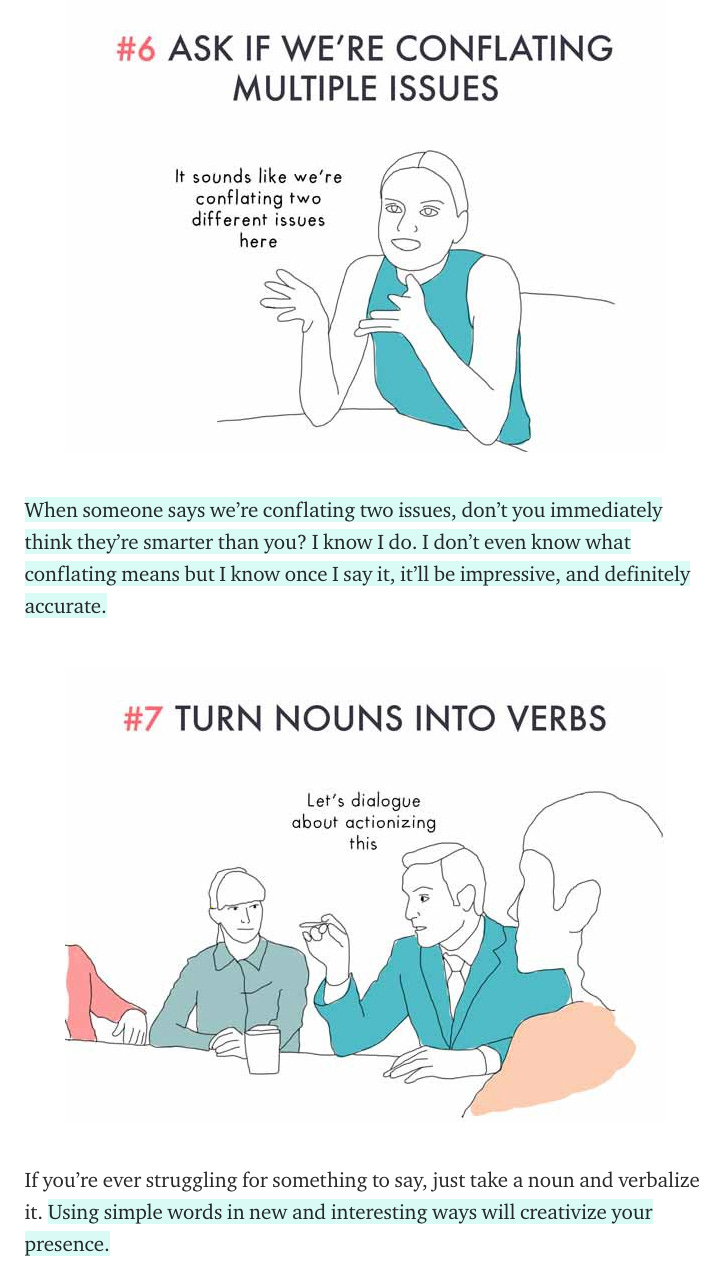 source: The Cooper Review
Hey! Every noun can be verbed!
---
Elsewhere
The Future Belongs To The Fast-And-Loose | What are the characteristics of digital-era top-performing companies? Adapting to disruption.
Work Week | Work Without Distractions | qdo | RPA for Coronavirus Refunds | Figma Series D, Catalyst Series B | AR Contact Lens |
Krugman on the Postnormal Economy | Things are blurrier than ever.
Mary Jo Foley Doesn't Get Microsoft Tasks | It's not a rebranding, but a rearchitecting
Google Meet For All | Coming to Gmail in the next few weeks