Work Futures Weekly | Automation Discourse
The great American labor paradox: plentiful jobs, most of them bad. | Gwynn Guilford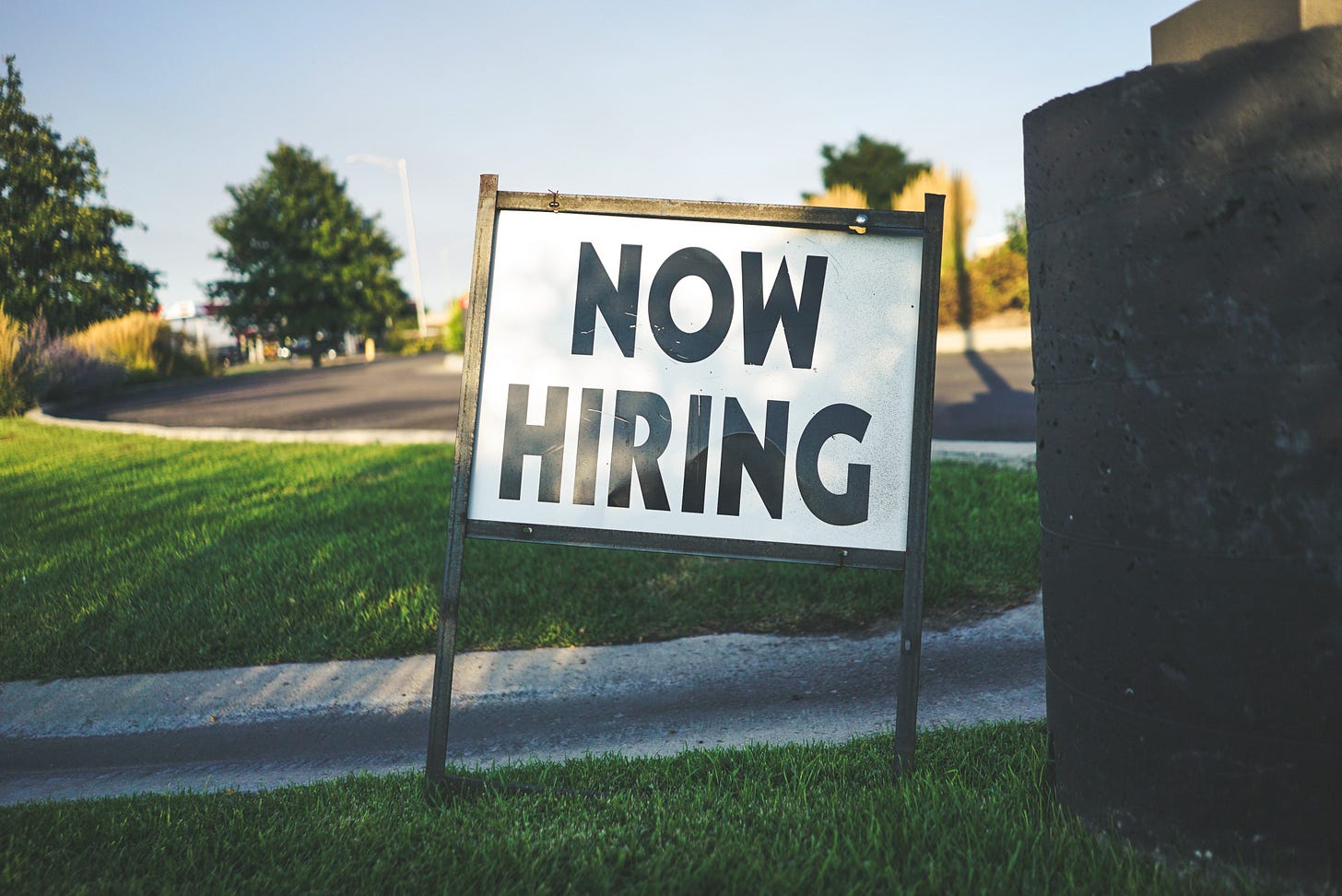 Photo by Free To Use Sounds on Unsplash
Beacon NY 2019–12–21 | I'm happy to say that I have a lot of interesting work on my plate. That's nice, but it has gotten to the point that I had to resort to a spreadsheet to estimate the impact of one-more-project on the sanity quotient, my shorthand for work/life balance.
Work Futures Daily is a labor of love but I am kicking off a new phase and a new format, driven by the need to reduce the time involved in writing and editing it. Note that I am NOT planning to reduce my investment in research, but I will be more selective in what I surface in the Daily, and how it will be presented.
What I going to try is this. I'll try to pick a single story that I think is important and focus on that in each issue, which I am limiting to three or four a week. I will also provide links to a handful of other stories, with a line or two of commentary. The Weekly will be similar, with a single in-depth story with one line summaries of the lead stories of each Daily. This is the first of the new Weeklies. (Note I have been so busy, I haven't been doing weeklies on a weekly basis in months.)
Because of this new format, the subtitle of each Weekly and Daily will be a one-line description of the lead story, rather than a long series of teasers. (This is one of the tasks that made this time-consuming).
There are going to be other changes. Wish me luck.
---
Quote of the Day
The return of automation discourse is a symptom of our era, as it was in times past: it arises when the global economy's failure to create enough jobs causes people to question its fundamental viability.
| Aaron Benanav, Automation and the Future of Work — 1
---
The Lead
The Job Quality Index is the economic indicator we've been missing | Gwynn Guilford offers up the essence of work in the US, today:
The great American labor paradox: plentiful jobs, most of them bad.
Which can now be measured:
A team of researchers thinks they may have uncovered the Rosetta Stone of the US labor market.

They recently unveiled the US Private Sector Job Quality Index (or JQI for short), a new monthly indicator that aims to track the quality of jobs instead of just the quantity. The JQI measures the ratio of what the researchers call "high-quality" versus "low-quality" jobs, based on whether the work offer more or less than the average income.

A reading of 100 means that there are equal numbers of the two groups, while anything less implies relatively lower-quality jobs.
And here's the 30-year slump: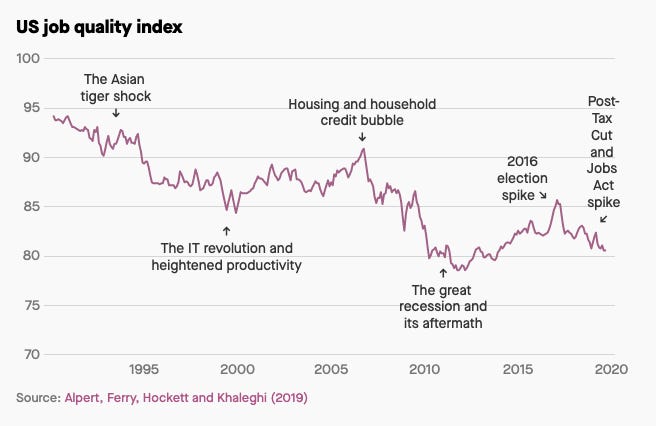 The bottom line is that fewer good jobs are being created. Time for that long-awaited infrastructure push, to get away from carbon-based energy.
---
Earlier
Vox Media to Cut 200 Freelancers, Citing California Gig-Worker Law | Marc Tracy and Kevin Draper report on some of the fallout from AB5 in California, which is leading media companies to drop freelance writers who live in the state
from Work Futures Daily | Dominating Nature
:::
Post-Work: The Radical Idea of a World Without Jobs | Andy Beckett collates points of view on a world where 'work is not working, for every more people, in ever more ways'.
from WFD | Post-Work
:::
A Few Cities Have Cornered Innovation Jobs. Can That Be Changed? | Eduardo Porter cites The case for growth centers: How to spread tech innovation across America by Robert Atkinson, Mark Munro, Jacob Whiton.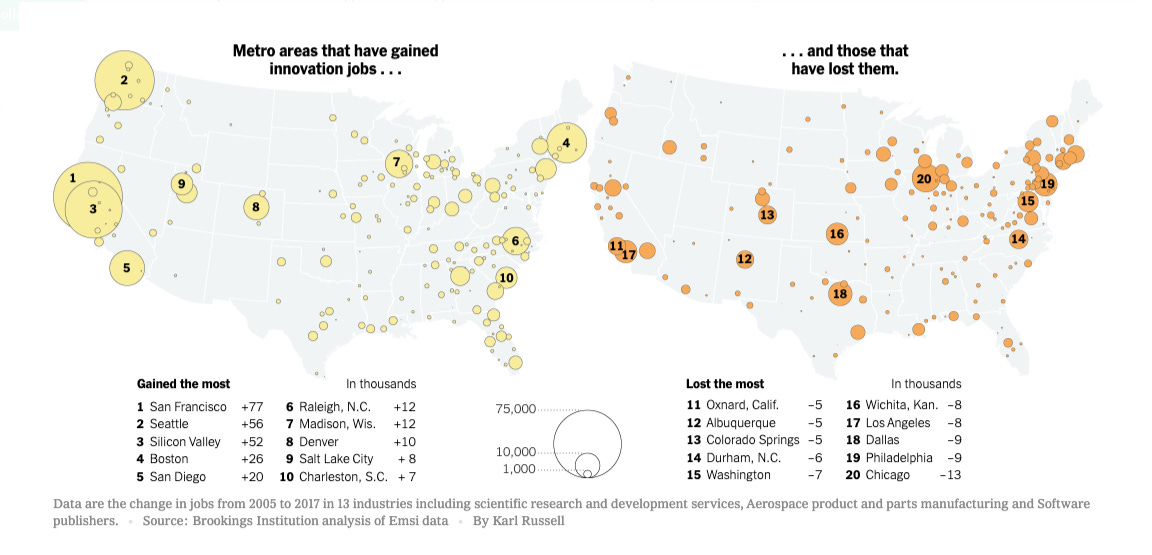 from WFD | The Time of Monsters
:::
Most Employees Want Their Bosses to Give Them More Responsibility | James Davis spoke with Mark Robinson of Kimble Applications about a recent research survey involving 1000 full-time employees in the US: The survey found that 72% of American employees wish their boss or manager would give them more responsibility.
---
Sign up for the free Work Futures Daily.