Work Futures Weekly | Fluid and Open
| Teams of Teams | Job Bots Hell | DoorDash Rebound | Amazon Delivery Culling | Unincluded |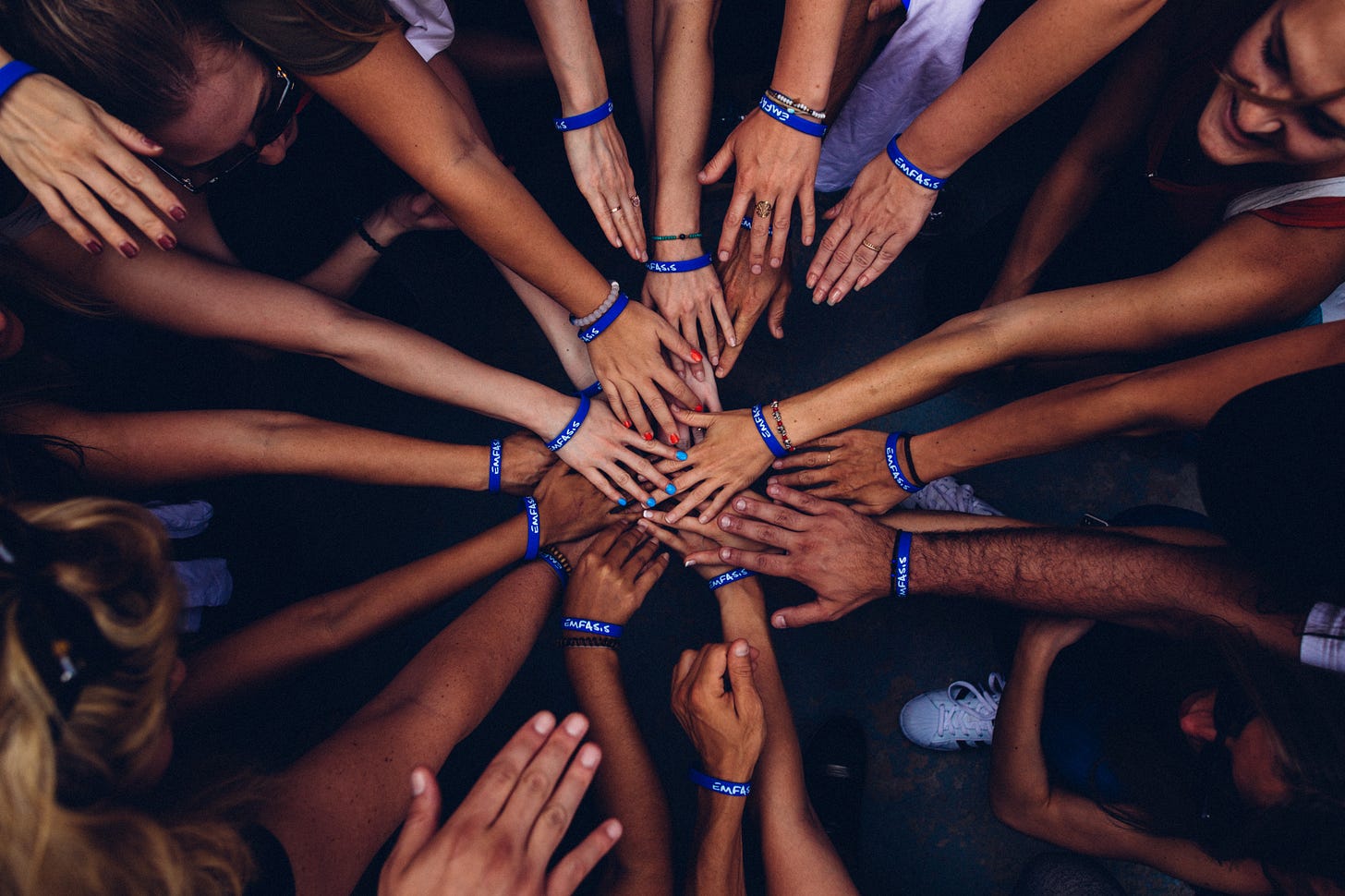 Photo by Perry Grone on Unsplash
Beacon NY 2020–02–17 | I've been very heads-down on a number of writing projects, but still managing to write longer pieces here, now that I have moved to a weekly-only regime for Work Futures. I'm less stressed, as well.
---
Quote of the Week
Value in this world comes not from providing the same thing over and over to a client, but from managing kaleidoscopic change processes that are busily bumping one another. Because one now needs to see and seize ever-changing opportunities, the new organizational model must be a fluid, open team of teams. That is precisely what one sees in the islands where the new world of change is already flourishing — for example, Silicon Valley and Bangalore. Here (and increasingly everywhere) the critical factor for success is determining what percentage of your people are changemakers, at what level — and how good a job you are doing in enabling them to work together in fluid, open teams of teams.
| Bill Drayton, A Team of Teams World(2013)
Fluid-and-open is a synonym for the fast-and-loose business model I've been writing about for years. [Emphasis above is mine.]
---
Cost Cutting Algorithms Are Making Your Job Search a Living Hell | Nick Kepler reports on increasing automation in job candidate assessment:
Companies are increasingly using automated systems to select who gets ahead and who gets eliminated from pools of applicants. For jobseekers, this can mean a series of bizarre, time-consuming tasks demanded by companies who have not shown any meaningful consideration of them.
One approach to outsmart the bots is to 'parrot keywords from the job descriptions':
The most basic elimination function of most ATS software is searching résumés and cover letters for keywords. Many systems can't — or don't bother to — distinguish synonyms, like "manager" and "supervisor," so she says to rewrite résumés with each application, mindlessly copying words from the job description. Countless onlineguides for "beating the bots" recommend the same.

[…]

Jack Wei, a director of product marketing for the job site SmartRecruiters, said that "the moment a candidate applies [for a posted job], a 'smart profile' scrapes résumé info into a digital portfolio by extracting keywords." The employer then sees an automatically generated score, from 1 to 5, of their apparent fitness for the job. The platform distinguishes synonyms and word variances when making this score, but the employer can search using any narrow phrase or word they choose, Wei said.
There are even services that will scrape keywords from job listings and insert them into resumes, like Jobscan. Note that these tricks have nothing to do with job skills, but are a sort of jiu-jitsu necessary to prevail against the bots.
:::
DoorDash is learning just how binding arbitration is | Food delivery startup DoorDash required its 'dashers' — delivery workers — to sign arbitration agreements in order to avoid class-action suits. In a strange bit of irony, over 5,000 dashers are now bringing arbitration demands over labor disputes, and DoorDash wanted to counter that in a federal court in San Francisco, requesting that the cases be consolidated in a class-action suit so that it could avoid what looks like over $9 million in fees, and who knows how much for lawyers. The judge, William Alsup, noted 'the irony, in this case, is that the workers wish to enforce the very provisions forced on them…'.
:::
Amazon Cuts Ties to Bear Down Logistics, Erasing Hundreds of Jobs | Spencer Soper and Matt Day report on Amazon cutting contracts with various small delivery companies around the US:
Bear Down Logistics, an Illinois company that rapidly expanded over the past two years, is shuttering operations in five states and letting go of about 400 drivers. Delivery Force, an Amazon delivery partner in Washington state, is cutting 272 drivers in Seattle and other cities. Kansas-based RCX Logistics, an Amazon delivery partner with operations in Texas, Alabama and Florida, will eliminate the jobs of more than 600 employees after losing its Amazon contract. Around the country, logistics firms are notifying state officials about facility closures and job cuts, signs that Amazon is culling the herd.
This is a side effect of Amazon's efforts to recruit entrepreneurs to build small delivery firms for the 'last mile' of delivery, allowing Amazon to sidestep UPS and other more expensive providers:
Amazon in 2018 launched a program encouraging aspiring entrepreneurs to lease vans, hire drivers and build their own businesses delivering packages to its customers. More than 800 such businesses have sprouted around the country with 75,000 drivers, helping Amazon increase delivery capacity. Amazon also has greater negotiating leverage over each small operator than it does with larger delivery partners like UPS, FedEx and the U.S. Postal Service.

Drivers working for Amazon delivery partners typically earn less than their counterparts working at larger delivery companies like UPS, which helps Amazon lower costs. One driver working for Bear Down Logistics in Michigan said he earned about $15 an hour delivering Amazon packages, while UPS paid seasonal drivers doing the same work in that area about $20 an hour.

A big challenge for Amazon is balancing safety with its efforts to deliver things quickly at the lowest possible cost. ProPublica in December revealed internal Amazon documents showing it prioritized speed over safety in its delivery network, which followed other investigations exposing the injuries and deaths that accompanied Amazon's quick expansion of its delivery program.

The Bear Down experience also shows how hard it is to make a go of such businesses. When Amazon courted entrepreneurs, it touted the prospects of earning $300,000 a year with as little as $10,000 in up front costs, significantly less than most franchise businesses that can cost more than $100,000 to launch.
Here's a link back to an earlier piece about Amazon starting the program: Amazon Will Pay Workers to Quit and Start Their Own Delivery Businesses | Niraj Chokshi.
:::
Only half of BAME and LGBTQ+ women feel included in work decisions | DiversityQ reports on a Culture Amp study, that contrasted straight white men — 80% feel that people from all backgrounds have equal opportunities to succeed — but only 54% of black women; 58% of LGBTQ+ women; 63% black men; and 69% of straight white women agree.
---
Recently
The Two Worlds of the Gig Economy | Older, skilled professionals versus younger, less educated temp workers.
The Downside of Always-On Work Culture | We are opting for mediocrity instead of excellence.
More Than Words | Moving from vertical to horizontal organizations means bigger changes than terminology.