Work Futures Weekly - Friends and Inspirations
I am made greater by the sum of my connections, and so are my connections
2018-02-18 - Beacon NY — Two of the sections below relate to the thinking of friends of mine: Celine Shillinger and Esko Kilpi, both of whom I 'met' and got to know online because of our shared interests in the past, present, and future of work. I have been massively enriched by contacts like these remote but warmly collegial friendships to an extent that is difficult to express.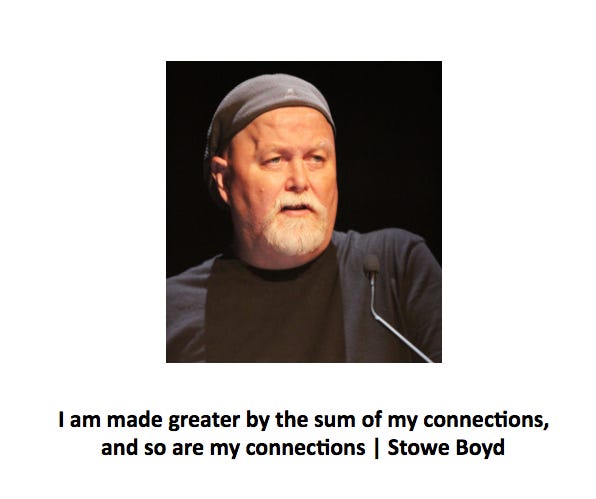 I once wrote,
I am made greater by the sum of my connections, and so are my connections.
which points in the right direction, but perhaps doesn't go far enough, in the end.
…
I don't know Farhad Manjoo, personally, but it feels like I do, especially when he writes something like this:
The future doesn't stop coming just because you stop planning for it. | Farhad Manjoo, Why We Need to Pick Up Alvin Toffler's Torch
---
Links
[from Work Futures Daily - Secondhand Stress]
My friend Celine Shillinger shares some key insights in One Human at a Time, a distillation of her experiences in change management. I recommend it strongly. Here's one of her 10 recommendations to whet your palate:
 2.      Change is done with people, not to people

People don't resist change, they resist change done to them (for a blunter elaboration, read this by friend Peter Vander Auwera People don't resist change, they resist bullshit). It's just human. I have a hard time understanding why it is not more understood.

My hypothesis is that our culture of expertise and efficiency, our passion for control, combined with the lack of diversity in decision-making spheres, business schools or consulting companies, supported by individual-based merit reward systems, creates systems with small brains (few people think), many hands (many people execute) and little to no heart. This sort of monster used to work well in the past, when changes in technology and business were slow, compatible with anticipation and long reaction times. It is not the case anymore.

What we now need instead are organizations where thinking power is shared more fairly, where more people are involved in the decision-making because we trust their judgement. Projects that engage the majority of people in the execution phase ("when things get clear enough to be shared") are doomed to fail. People don't own the change, therefore hardly commit to it. Don't try to mitigate with a few pre-project surveys, or suggestion boxes. Take the time to engage with people, create decision-making bodies that are diverse in skills, ranks and gender, that are truly representative of the collective. Entrust front-line workers and volunteer networks with some decision-making. Create organizations where each and every cell is a brain, a heart, and a pair of hands.
Celine starts out by discussing bad systems:
It is easy to go with the flow, to keep ourselves busy, to navel gaze and to raise all the good reasons for which things cannot change. It is easy, but in doing so, we are complicit of bad systems. Bad systems waste people's energy, passion and desire to do good. They turn good intentions into soul-crunching bureaucracies, corporate puppet theater and dysfunctional societies. They shrink minds and hearts. They bring about toxic competition, division and wars.
This resonates with something I read earlier this week, Irony Doesn't Scale by Paul Ford, who wanted to share what he had learned in founding an agency called Postlight, and working there for the past two years:
A lot of businesses, especially agencies, are sick systems. They make a cult of their "visionary" founders. And they keep going but never seem to thrive — they always need just one more lucky break before things improve. Payments are late. Projects are late. The phone rings all weekend. That's not what we wanted to build. We wanted to thrive. I made a list:

Characteristics of a Well System

Hire people who like to work hard and who have something to prove.

Encourage people to own and manage large blocks of their own time, and give people time to think and make thinking part of the job—not extra.

Let people rest. Encourage them to go home at sensible times. If they work late give them time off to make up for it.

Aim for consistency. Set emotional boundaries and expectations, be clear about rewards, and protect people where possible from crises so they can plan their time.

Make their success their own and credit them for it.

Don't promise happiness. Promise fair pay and good work.
Read the whole thing, there's a lot to unpack there. The title derives from Ford learning that his dry wit is fine, but irony doesn't scale:
Jokes and asides can be taken out of context; witty complaints can be read as lack of enthusiasm. People are watching closely for clues to their future. Your dry little bon mot can be read as "He's joking but maybe we are doomed!" You are always just one hilarious joke away from a sick system.
Oh, and Postlight is hiring! I bet it would be a good place to work.
---
[from Work Futures Daily - Here Come The Robots]
Kim Azzarelli and Deanna Bass say The most common excuses for not having enough women leaders are myths :
The Women-Lack-Ambition Myth — because self-confidence in women is not expressed exactly like men, that doesn't mean they aren't confident. For example, research shows women seek promotions and ask for raises as often as men, but get shot down more frequently.

The Pipeline Myth: There aren't enough qualified women — Women hold 52% of all professional jobs in the US, 42% of MBAs from the best schools, and 47% of those with law degrees. They are out there, but companies aren't putting them in top jobs, or on their boards.

The Man Myth: Advancing women hurts men — My favorite myth, since men benefit when companies do better, and companies with female CEOs perform three times better than those run by men.
These myths are just lies that make it easier to continue the status quo, and holding women back.
---
Esko Kilpi on the Architecture of Work
I interviewed Esko back in 2014, but it's timeless. Some quotes:
It is not the corporation that is in the center, but the intentions and choices of individuals. | Esko Kilpi

The architecture of work is not the structure of a firm, but the structure of the network. |  Esko Kilpi

The focus of industrial management was on division of labor and the design of vertical/horizontal communication channels. The focus should now be on cooperation and emergent interaction based on transparency, interdependence and responsiveness. It really is a fast-and-loose world.  | Esko Kilpi

The variables of creative work have increased beyond systemic models of process design.  | Esko Kilpi

As we want to be more creative and human, the focus of management and management theory should shift towards understanding participative, self-organizing responsibility and the equality of peers.  |  Esko Kilpi
Go read it.
---