Work Futures Weekly | Metaphors Matter
| Wholesale Remote Work | Remote Isn't | Work Journaling in Markdown | Closing Triangles | Part-time Pay Penalty | O'Reilly Pointers|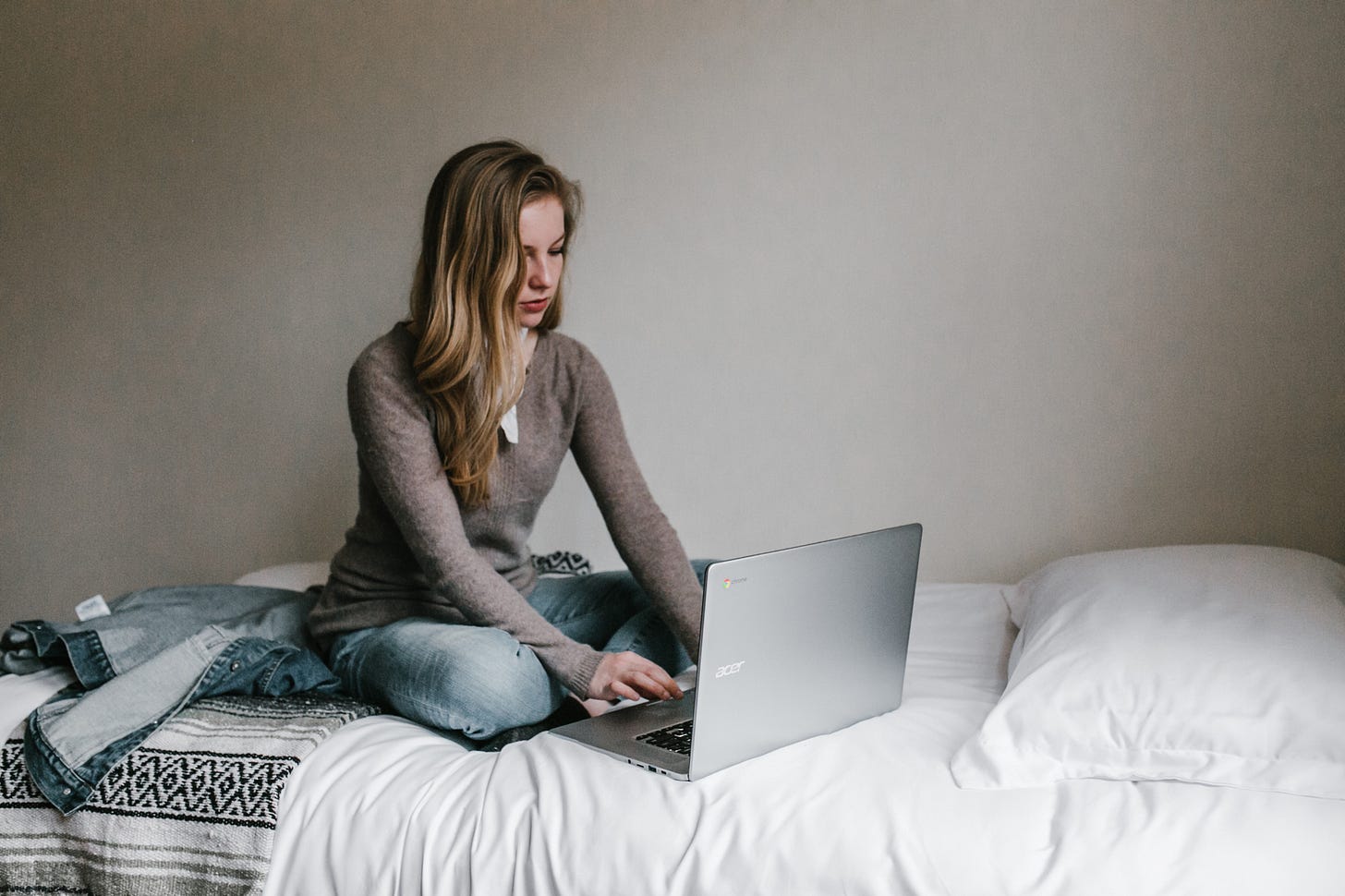 Photo by Andrew Neel on Unsplash
2020–03–16 Beacon NY | I missed a week because I was filling the bomb shelter with provisions. (I just call the basement a bomb shelter: it's not, really. Although it looks like one, now.)
---
Quote of the Week
A person who doesn't think metaphors matter is half blind.
| Stowe Boyd
---
In Scaling Up To Wholesale Remote Work, the newest installment in the new Work Talk series, I explore the challenges of what many businesses are facing: going 100% remote, all at once.
While many businesses have allowed occasional working from home, most businesses operate around the premise that most people, most of the time, are working from a company office. People schedule face-to-face meetings that take place in conference rooms, at people's desks, or at the corner Starbucks, and they rely on proximity to conduct a great deal of the daily business informally and spontaneously. It's well-known that sitting more than 50 meters away from a colleague drastically decreases interaction with them. What will 50 miles do to that relationship? Then multiply that level of disruption by the number of people in your company network who will now be working from home.

[…]

Grappling with a wholesale transition to remote work will force a new obligation on leaders to reassess the company's operations across the board, and to reconfigure for a distributed, decentralized, and discontinuous world order, which we have been watching evolve over the past decade: the 3D world of work.

[…]

Perhaps just as important: we are on track to learn a costly lesson. Our societies — and the world of business — need to build more resilience into how we live and work in a globally interconnected world. Coronavirus is only the most recent example of an epidemic sweeping the world that we are unprepared for. If and when coronavirus abates, we will still be subject to other pandemics, for example, like the 1918 influenza pandemic that killed an estimated 50 million. We will have to build into our institutions — including businesses — the capacity for distributed, decentralized, and discontinuous work. Permanently. Not just for the duration of this pandemic.
The series sponsor, Simpplr, has announced their Work From Home 2020 Communication Package, which can provide remote employees a virtual headquarters. Simpplr is waiving implementation fees and offering 'a two-week deployment to support organizations with an enterprise-wide internal communications platform to keep the workforce connected and aligned'.
:::
A related post in the Work Talk series is apropos: Paradoxes of Engagement: Remote Isn't | Do remote workers make their managers better? It seems so.
:::
I wrote about WFH in Work Week | Work From Home, like the offers of help from Zoom, Zoho, and other vendors.
Here's what's happening at Zoom: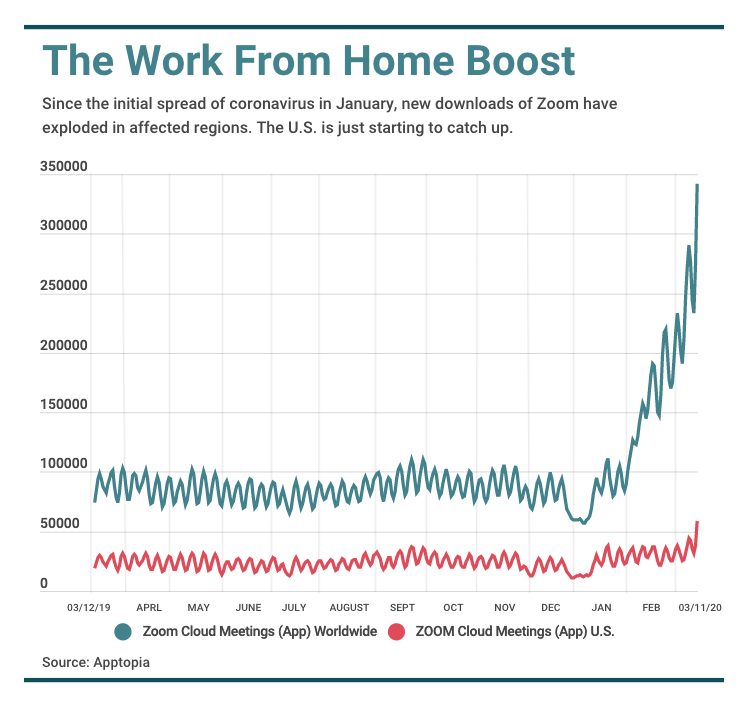 :::
I wrote about how I am Work Journaling in Markdown with Typora. I've defected from highly structured work management solutions in my personal work.
:::
I enjoyed Valdis Kreb's Network Weaving 101 post (from 2006), which popped up on Twitter recently:
The basic skill of network weaving is "closing triangles".

A triangle exists between three people in a social network. An "open triangle" exists where one person knows two other people who are not yet connected to each other — X knows Y and X knows Z, but Y and Z do not know each other. A network weaver (X) may see an opportunity or possibility from making a connection between two currently unconnected people (Y and Z). A "closed triangle" exists when all three people know each other: X-Y, X-Z, Y-Z.

Let's look at a real life example of network weaving.
Here we see our friend and colleague Ed Morrison, of iOpen, connected to two of his clients — the economic development folks in both Lexington, KY and Oklahoma City, OK. He knows each of these groups, but they do not know each other. Much could be learned if both of these groups shared their economic development experiences with each other — innovation happens at the intersections.

But you can't introduce groups to groups, or organizations to organizations — it works better by introducing people to people. So, Ed picked two leaders from each group to close the triangle. He picked Cynthia Reid at the Oklahoma City Chamber of Commerce[OKC] and Lynda Brabowski of Commerce Lexington[CLX]. This triangle is illustrated below.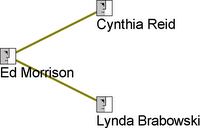 When Lynda expressed a desire to Ed for CLX to visit another region that they could learn from, Ed immediately knew the answer — visit OKC, who previously had faced similar issues and handled them very well. Ed, also knew which introduction to make — a network weaver needs to know WHOM to connect by knowing the people, the groups, and the dynamics involved in the connections that are being made. The closed triangle — after Ed's introduction — is shown below.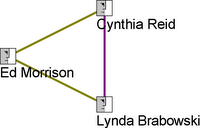 :::
Working part time comes with a 29% pay penalty, says EPI study | Valerie Bolden-Barrett reports on new research on the part-time pay penalty:
Part-time workers experience an adjusted hourly wage penalty of 29.3% compared to similarly situated full-time workers, according to new research by an Economic Policy Institute (EPI) and Penn State economics professor, Lonnie Golden. After adjusting for industry and occupation, part-timers are paid 19.8% less than full-timers.

The research showed that the pay gap for part-time workers is even greater when benefits are factored in, adding up to a 25.3% penalty. The adjusted wage penalty is worse for men than for women, and for white male workers compared to workers of color. EPI notes this difference likely reflects "white male workers' advantage in wage rates at full-time jobs."

"While some workers prefer the time flexibility that part-time working provides, more than 4 million U.S. part-time workers still would prefer to work a full-time job and likely many others who are working part time for non-economic reasons would also prefer full-time work if they did not have constraints like the lack of support for family caretaking and pursuing education," Golden said in a media release.
And it's even worse when you factor in lack of paid sick leave during a pandemic.
:::
O'Reilly's newsletter recently included a bunch of great pointers:
Last Sunday's edition of the New York Times Magazine zooms in on a few issues relevant to the future of work. Unlike other such special editions — rife with prognostication and grand visions of what's to come — the contributors to this annual edition hew close to a unifying theme: the challenges faced by twenty-first century workers and how they can assert power on the job. Beyond the cover's depiction of a Rube Goldbergian corporate machine, you'll find stories on activists within the ranks at Google and the repercussions they face, how the Trump administration has hog-tied organized labor, the movement toward salary transparency, contending with a multigenerational workforce, and five ways to work the system at work. More than a portal into the future of work, this edition provides a look at issues very much in the now.

+ As reported in The Hill, Kickstarter employees just became the first white-collar tech workers to unionize, marking a breakthrough in tech activism.

+ Tech employee activism is spreading. Ars Technica reports on the employee walkout at Oracle over founder Larry Ellison's Trump fundraiser.

+ From Quartz: A field guide to the future of work

+ For another take on the future of work, including an algorithm-driven STEM school gone horribly haywire, watch The Simpsons episode "The Miseducation of Lisa Simpson" (season 31, episode 12), which aired about two weeks ago.